Alumni and Friends
Brandon Dean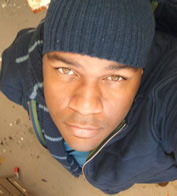 A year after graduating from Auburn, I became involved first with the local arts community of Auburn by contributing where possible to The Layman Group (local non arts non-profit). I showed work locally in the Auburn area, and got into some juried shows elsewhere in the country during 1st year out of college. A year after graduating, I felt ready to apply to grad schools for painting. With the mentoring and support of the Auburn Art Department's faculty, I felt confident in the work I produced at Auburn, and prepared for the experience. I was accepted at Maryland Institute College of Art, Indiana State in Bloomington, and the Tyler School of Art receiving scholarship/fellowship offers at all three. I chose to go to the Tyler School of Art (Temple University), receiving a Future Faculty Fellowship that funds the entire two year program.
Between the first and second years of grad school I took an opportunity to study abroad in Rome for a month, taking in the art and art history as a means to fuel future work. It was an incredible experience that I found myself prepared for, having gone to Paris in 2007 with auburn art students. I will be graduating from Tyler with an MFA in Painting in spring of 2012, and as an Alabama native, I look forward to further exploring what Philadelphia and the rest of the northeast have to offer. If it weren't for the Auburn Art department, I would have never imagined that where I am now would even be possible.
Receiving the Ritz Foundation Scholarship during my senior year and the Trustees scholarships both had an incredible effect on what I was able to produce as an artist. It allowed me to be more creatively ambitious with my projects, feeling that I not only had the moral support of faculty in my creative endeavors, but financial support as well. Materials as a painter can be expensive, so one can't underestimate how empowering it can be to be only limited by your own ambition, not one's ability to afford supplies. It is hard to imagine that I would have been able to produce nearly as much work during my latter years at Auburn without the Ritz Foundation Scholarship. It was great motivation, working hard to get it, and likewise working hard because I earned it. The Purchaser Awards and the Merit Awards in Art were also great motivators to constantly put out your best work, and to feel that your creative efforts are being appreciated.
Last Updated: August 16, 2016