Alumni and Friends
Billy Renkl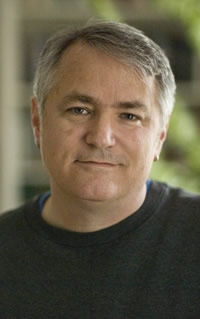 After graduating from Auburn with a focus in illustration, I earned an MFA in drawing from the University of South Carolina. Since that time I have pursued a career in both, exhibiting in galleries and doing editorial illustrations for clients such as Southwest Airlines and How Magazine. I am grateful for many things about my time at Auburn, but especially for the way that the faculty allowed me to move freely between commercial illustration and fine art. That has served as a model for how I've conducted my career, both as an artist and a teacher.
The old, retired, images and documents that I use, many from outdated grammar school texts, have a peculiar beauty and often an accidental esthetic. In these images, diagrams, and maps, the world is represented both as sensible and miraculous, systematic and astonishing. The images in my collages were originally made to be clear and objective, a rational distillation of a mechanical world. Out of context, though, they are rich in beauty and poetry.
My work is made with old-fashioned manual labor. Because I am interested in the lives that these paper fragments led before they entered the studio - as objects rather than simply images - I've elected not to work digitally. My illustration clients come to me for that tactile quality; this sensibility owes as much to my ceramics classes at Auburn as those in illustration.
I have taught illustration and drawing at Austin Peay State University (Clarksville, TN) for 22 years. My clients include Strategy and Business, Poems and Plays, Klutz, Rigby Publishing, Vanderbilt University. I've had solo exhibitions in Cincinnati, Nashville, Birmingham, Tuscaloosa, New Orleans, Indianapolis, Atlanta, and Berlin, Germany.
Last Updated: February 22, 2016