Alumni and Friends
Amanda Foran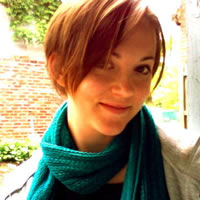 I received a BFA in the Fall of 2008 with a concentration in Painting and Drawing. Although my focus was two dimensional work, much of my time was spent exploring ways that art can have agency in the world around us. At Auburn, I was (and still am) so grateful for a diverse and passionate faculty that was able to help me explore this idea. Post-graduation, I received an internship to work as an arts administration and education intern at the Coleman Center for the Arts in York, AL. I instructed an after school art program and worked with community youth to design and paint a garden mural. In the summer of 2009, I participated in Foresight Design Initiative's Immersion Program (formerly Urban Sustainable Design Studio) in Chicago, IL. Through the program, I collaborated with other participants from diverse backgrounds to develop an approach to community-based sustainable design.
My experience volunteering and working at the Jule Collins Smith Museum of Art (Auburn University's art museum) provided me with skills that lead to my volunteering for Urban Habitat Chicago, an urban sustainability non-profit. UHC is run by a multi-disciplinary group of architects, landscape architects, biologists, and artists. Here I became involved in a variety of projects that ranged from designing school gardens and green playgrounds to coordinating communication and marketing efforts for the organization.
One of the most important lessons I took from Auburn was a way of thinking of art as layered, complex, and as a great foundation for a multitude of creative careers. Being an artist doesn't have to mean making paintings, sculptures, or even installations (although it certainly can). It has become a way of approaching the world around me. I am currently a candidate for a masters degree in landscape architecture from Virginia Tech, and I've never stopped considering myself an artist. Not a day in studio goes by that I'm not reminded of lessons learned, or utilizing a strategy or technique I learned as a student at Auburn.
SCHOLARSHIP
I was fortunate to receive several scholarships during my last two years at Auburn. This time of school was especially important in developing my artistic goals and honing my skills. Prior to my senior year, I had been working several jobs in order to support myself through school, and it was particularly difficult to continue doing so as a full time student. The scholarships that I received helped me focus on my studies and remain a full time student during this critical period. I was able to devote more time to volunteering at the university museum, which then lead to my post-graduation internship at the Coleman Center for the Arts.
Last Updated: February 22, 2016