Undergraduate major, Frances Oglesby, gains professional experience as intern at High Museum of Art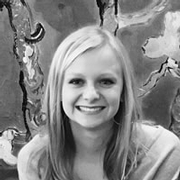 Frances Oglesby, a senior pursuing a BA in Studio Art, interned this past summer at the High Museum of Art in Atlanta. In her role as Museum Interpretation Intern, Oglesby oversaw Art Lab, an interactive space for families to explore art together. Because museums can sometimes feel intimidating or unwelcoming to visitors and children, the staff of the High conceived of an interactive space to gather feedback on what museum visitors enjoy, find challenging, and would like to see in a new family space. The collected information will inform a redesign of the Greene Family Learning Gallery, where children's activities are offered in connection with the Museum's exhibitions and programs.
Throughout the summer, Oglesby collaborated with local artists to design interactive prototypes and activities for museum visitors. She also organized questionnaires and conducted interviews to gather feedback from museum visitors about their experiences. Reflecting on the internship, Oblesby reports: "It was exciting to be a part of such an important research opportunity that will impact the future of the museum." The experience, she notes, may impact her future as well: "The internship was an incredible way for me to network with individuals in the museum world and gain a fuller understanding of the time and energy that goes into any change or decision made at a museum or similar institution".
Last Updated: December 08, 2016