Dr. Floyd focuses research on the history of exhibitions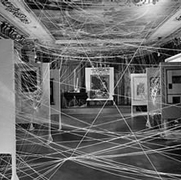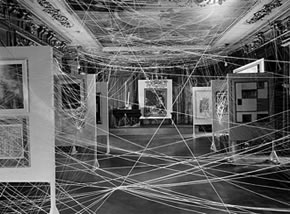 Students in Dr. Floyd's art history courses don't just analyze particular works of art. They also discuss the ways those works have been displayed and encountered. Dr. Floyd's research focuses specifically on the history of exhibitions, an innovative subfield in art history that examines temporary displays of art, from smaller shows created by artists to large scale shows like the Venice Biennale and documenta as well as the political, social, and economic aspects of these "mega-exhibitions." Last year her article on exhibition catalogue photography at the German event documenta appeared in Carson, Miller, and Wilkie's The Photograph and the Album (MuseumsEtc, 2013) and in February her piece on object-oriented-ontology and the future of the biennial format was published in the European contemporary art journal Seismopolite. This spring her research about the "curatorial" practice of contemporary African artist Georges Adéagbo, photographs of the 1937 Degenerate Art Exhibition, and images of the Museum Fridericianum at documenta will appear in volumes published by Ashgate, the University of Toronto Press, and De Gruyter Press, respectively. She is also currently serving as guest editor for a special issue of the international journal Dada/Surrealism on exhibitions and displays of the early twentieth-century avant-garde.
Dr. Floyd often integrates museum and exhibition-based research assignments in her courses to help students understand the historical and experiential significance of art events. These projects also give students hands-on opportunities to explore what artists, curators, and museum professionals do. In spring 2012 Dr. Floyd's students in her advanced seminar on Dada and Surrealism developed and produced a public cabaret and exhibition in Biggin Gallery that was followed by a recreation of Marcel Duchamp's infamous "Mile of String" installation from 1942 (pictured above). This semester, as part of their research projects, students in her twentieth-century art class will create a month-long series of "micro-exhibitions" in Biggin Lobby beginning on October 27, 2014. The displays will be focused around five key works of art from the 1910s, 20s, 30s, and 40s by artists Ernst Ludwig Kirchner, Hannah Höch, Charles Demuth, Aaron Douglas, and Weegee. Each display will present a narrative about the history of the work of art through object-, image-, and display-based strategies.
Last Updated: May 11, 2018