2018 Student Fine Art Juried Exhibition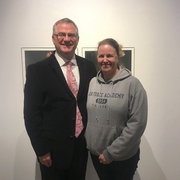 The Department of Art and Art History recently held its annual Juried Fine Art Student Exhibition.
This year's juror was art historian and editor of Art Papers magazine, Victoria Camblin. Camblin holds a dual bachelor's degree in philosophy and art history from Columbia University and a doctorate in the history of art from the University of Cambridge. From 2006-2013, she was editor of 032c, a Berlin-based contemporary culture magazine, where she remains on the editorial board. Her writing has appeared in such publications as Artforum and Texte zur Kunst, in addition to a number of exhibition catalogues and artists' books, and she has organized and contributed to public programming and exhibitions in Europe, in the Middle East, and in the southeastern United States.
Angie Kelsoe, a senior pursuing a BFA in studio art, won the Dean's Choice Purchase Award for her photographs titled Father and I. "When I saw Angie's photos, they immediately touched my heart. When I heard Angie describe the relationship between these photos and her father, it was all that I could do to keep my emotions in check," said Dean Joe Aistrup. The photographs will be displayed in the Dean's Office on the third floor of Tichenor Hall.
The Department of Art and Art History awarded Merit Awards to Garrett Johnson for Femmebot, Pete Baker for Undefinable, Cat Wofford for Rodney, Adelaide Warinner for The Original Mustang, and Matt Kelsoe for Just a Mask. Joyce and Roger Lethander Merit Awards went to Andrea Vazsonyi for Lost Potential, Dakota Sumpter for Untitled, Lauren Harvill for Milk Jug and Rebecca Odum for Community. The Lethander Purchase Award was given to Theodore L. Gregg III for The Lost Art of Squirrel Hunting.
Sharon Nordermeer received the James E. Furr Creative Excellence Award for her piece Macbook 1800s, and Amy Briggs received the Davis-Frye Annual Award for The Behavior of Nature: Kudzu.
For more information about Biggin Gallery or to view the gallery's exhibition schedule, go to www.cla.auburn.edu/art/galleries/exhibitions/.
Last Updated: May 11, 2018