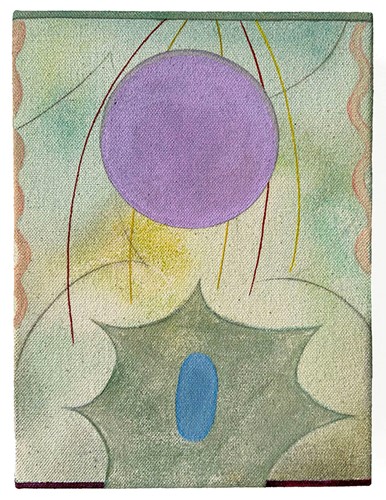 Image, courtesy of the artist: Out There, 2020, acrylic on canvas, 8 x 6 in
Solo exhibition featuring works by Jessica Simorte.
December 7, 2022 – January 20, 2023
In Elbowroom, Jessica Simorte explores painting as a means of determining the value of place. Abstractions both energetic and introspective serve as crops, or snapshots, of daily space and the interior workings of home. Inspired by locations both real and invented, Simorte is interested in the visual rhythms that personal spaces hold.
Online Artist Lecture:
When
Thursday, January 19 at 8:00–9:00 p.m. CST
Where
Zoom ID 835 6947 7671
This event is free and open to the public.
About the Artist
Jessica Simorte completed her MFA with an emphasis in painting at the University of Cincinnati's College of Design, Architecture, Art, and Planning (2014). She is currently living in Texas, where she coordinates Sam Houston State University's WASH Program and teaches within their new MFA Program. She has shown regionally, nationally, and internationally and has been included in numerous publications including multiple issues of New American Paintings, Art Maze Mag, and Maake Magazine.
Notable exhibitions include solo shows at Gallery Urbane in Dallas and Virginia Commonwealth University, as well as inclusion in shows at Big Medium in Austin, CICA Museum in Gimpo, South Korea, and Trotter & Sholer in NYC. When she is not teaching, parenting, or painting, Simorte is probably dreaming of adopting another dog.