Art

|

For those who don't yet have the words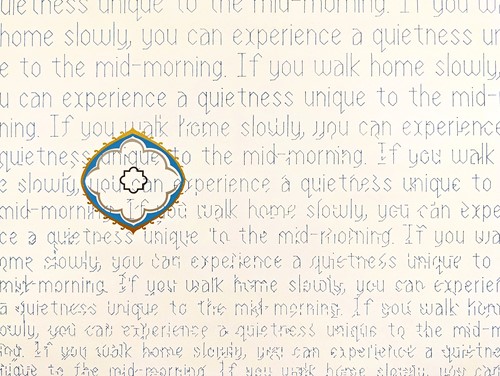 Image, courtesy of the artists: Detail, For those who don't yet have the words, 2023, installation, dimensions variable
January 24 – February 24, 2023
For those who don't yet have the words, an exhibition of the collaborative work of Ladan Bahmani and Brian Patrick Franklin, contemplates the role of repetition in mass communication and its influence on the creation and destruction of meaning. Abstract text and short fiction work together to present a narrative leading through the entire mixed-media installation, as patterns and imagery borrowed from illuminated manuscripts in the artists' Persian and Irish backgrounds instill the language with a weight of meaning, reverence, and authority intrinsic to those historical books. 
Over the course of each paragraph, recognizable letterforms rise and fall from fields of noise to create short phrases just barely decipherable. As the text oscillates between being legible and being illegible, words continually appear, break down, dissolve, and transform into new phrases. Each message stands alone in its ambiguous intent, while at the same time, connecting with the phrases in neighboring works. As viewers move from one composition to another, the phrases they uncover string together to form a unique poetry of their path and point toward the collective power in language and meaning. While the disruptions in each letterform disconnect us from the language that we are familiar with, the repeated structure of the text provides just enough clues to encourage the reader to decode each now-abstract phrase. 
Opening Reception & Artist Lecture:
When
Tuesday, January 24, 2023
5:00-7:00 pm CST
Where
Artist Lecture: 005 Biggin Hall
Reception: Biggin Gallery, 101 Biggin Hall
This event is free and open to the public. 005 Biggin Hall and Biggin Gallery are handicap accessible.
About the Artists
Ladan Bahmani and Brian Patrick Franklin are artists and designers addressing language and its power in mass communication. Their collaborative work pairs the shifting vocabulary that we absorb, process, and speak back into the world with designs referencing Persian and Irish illuminated manuscripts to explore semantic satiation, the illusory truth effect, and asemic writing. Their work has been exhibited, published, and presented nationally and internationally. Bahmani (MFA in Graphic Design, Michigan State University) and Franklin (MFA in New Media, Pennsylvania State University) work in Illinois, where they teach Graphic Design and Expanded Media courses in the school of art at Illinois State University.