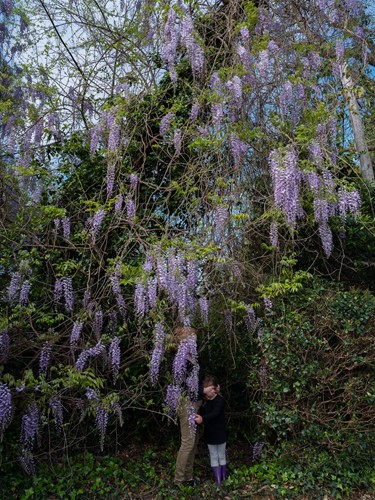 Image, courtesy of the artist: In the Wisteria, 2019, archival inkjet print, 48 x 36 in
Solo exhibition featuring selected works from Allison Grant's Within the Bittersweet series.
September 30 – November 4, 2022
Within the Bittersweet is a dark, pastoral narrative about raising children amid concerns about the impacts of climate change and environmental contamination. The photographs in the project were taken in and around Allison Grant's home in Tuscaloosa, Alabama, where dense vegetation and natural beauty intersect with industrial and fossil-fuel facilities that dot the region. In Grant's artwork, the dark realities of the landscape we live in are interlaced with representations of her deep love for her children and the physical world around them—a living tapestry of incredible complexity in the midst of rapid and impactful change.
Reception & Artist Lecture:
When
Thursday, October 20, 2022
5:00-7:00 pm CDT
Where
Artist Lecture: 005 Biggin Hall
Reception: Biggin Gallery, 101 Biggin Hall
This event is free and open to the public. 005 Biggin Hall and Biggin Gallery are handicap accessible.
About the Artist
Allison Grant is an artist, writer, curator, and Assistant Professor of photography at the University of Alabama in Tuscaloosa. Artworks by Grant have been widely exhibited and are held in collections at the High Museum of Art (Atlanta), DePaul Art Museum (Chicago), Columbia College Chicago, Cincinnati Children's Hospital Research Foundation art collection, Cisco Systems Corporate Art Collection (Durham), and the King County Portable Works Collection (Seattle). Grant received a 2022 Verdant Fund Grant sponsored by the Andy Warhol Foundation. She was included on the 2022 Silver List, awarded the 2020 Portfolio Purchase Award from the Atlanta Photography Group, and was shortlisted for the 2019 FotoFilmic Mesh Prize. Grant holds an MFA from Columbia College Chicago (2011) and a BFA from the Columbus College of Art and Design (2004).
From 2010-2017, Grant served as Assistant Curator at the Museum of Contemporary Photography at Columbia College Chicago (MoCP), where she curated numerous exhibitions including Our Origins (2011); Spectator Sports (2013); and What Remains (2015). Grant co-curated Disruptive Perspectives (2017) with Nadine Weitlishbach and co-published a catalog. The exhibition was mounted simultaneously at both curators' home institutions: MoCP and Photoforum Pasquart in Beil, Switzerland. In 2015, Grant curated the exhibition From Now at Filter Space, Chicago. In 2021, she curated Lucinda Bunnen: Inward, Outward, Forward at Atlanta Contemporary. Essays by Grant have appeared in Minding Nature Journal and INCITE: Journal of Experimental Media, Volume 7, as well as numerous artist books and exhibition catalogs.