Beth Burkett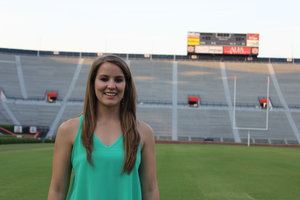 Name: Beth Burkett
Year: Senior
Major: Social Work and Human Development & Family Studies
Hometown: Jakin, GA
Future Plans: I intend on pursuing a Master's degree in social work.
Background: I am the daughter of Mark and Annette Burkett and the sister to Ben and Brittany Burkett. I attended high school at Southwest Georgia Academy in Damascus, Ga. and began college at Auburn in the fall of 2012. While at Auburn I have become active in Kappa Delta sorority, Students of Auburn Recruitment, Expressions of a BraveHeart, and teach fitness classes at the Auburn Recreation and Wellness Center.
How did you learn about Bravehearts and what has been most rewarding about the experience?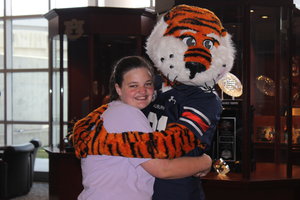 I first began working with BraveHearts during the spring of my sophomore year. As a social work student I was required to participate with BraveHearts that semester, but I quickly fell in love with the program. The most rewarding experience I've had with BraveHearts actually occurred that first semester during the final performance. I was standing behind my BraveHeart participant looking out at the faces of all of the parents during the performance and their looks of joy and pride as they watched their children were unbelievably moving. Witnessing their reactions and the participants laughs of joy made me realize the kind of impact we were really having in the community.
What is your favorite memory from your work with Bravehearts?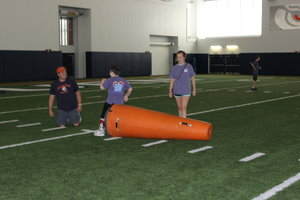 I am fortunate enough to get to relive my favorite memory each week. During music class I, along with BraveHeart participants, will break out into full song and hand motions to the lyrics of Frozen's Let it Go. This is a treasured moment for me, because it is something the participants and I share with one another and look forward to each week.
How do you balance all of your extracurricular activities while double majoring in social work and HDFS and still maintain a strong GPA?
The key behind my being able to balance my schedule is honestly the amazing support system I have. I have lived with my sister since I began college and she often helps me stay focused, picks up my slack around our apartment, and is simply my go to person for everything. As well, my parents continuously tell me I can do anything and encourage me to try everything too.
What is your favorite Auburn memory?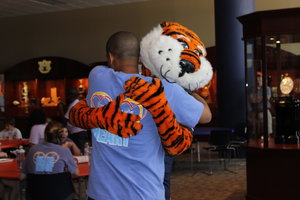 My favorite Auburn memory would have to be when I got to combine my two favorite passions at Auburn: Students of Auburn Recruitment and Expressions of a BraveHeart. This past June I was fortunate enough to host the BraveHeart participants and their families at the Auburn athletic complex and tour them around the facilities and stadium. This gave me the opportunity to show a piece of me and a piece Auburn to the group I love.
How has Auburn made a lasting impact on you?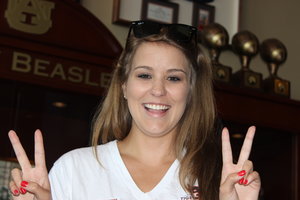 Auburn has taught me many lessons through my time here. However, the most important one I believe is the simple phrase: It's a privilege. Every day I wake up and have the opportunity to do the things I do is a privilege. Every lesson I learn, every experience I have, and every life I touch is a privilege.
Last Updated: August 12, 2015