Together Apart: A Socially Distanced Collaboration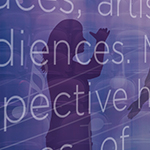 Join us in a "performative experiment" of finding connection through necessary layers of physical distance and virtual space. This theatrical exploration will offer a variety of works that speak to the cultural and emotional conditions of the times, including songs, scenes, monologues, spoken word poetry, and movement. The Together Apart company will explore curated content, as well as create original devised material, to share with you our common experiences of longing, loss, frustration, humor, and hope.
This production examines subjects that may be difficult for some viewers, and contains adult language in some sections of the show. Auburn University Theatre is dedicated to presenting works as created, without censorship. We respect that all people do not share the same views. But, we hope, through our show that we can find common ground in the shared experiences of longing, loss, frustration, humor, and hope.
Available for Viewing: November 16-22
Thursday, November 19th, 2020*
*Talkback Thursday
I come to sing a song about hope. I'm not inspired much right now, but even so, I came out here to sing a song. So here I go, I guess, I think that if I tinker long enough one might appear and look, it's here one verse is done. The work's begun.
Last Updated: November 18, 2020