The Future is Here: A Student One-Act and Performance Festival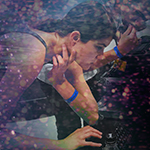 Collaboration led by Tessa Carr,
Sarah Chandler, and Adrienne Wilson
April, 2021
A festival of one-acts and original choreography, The Future is Here is fully produced, directed, managed, designed, and performed by the young creative minds of our community. With a commitment to learning through practical application and the empowerment of the next generation of collaborative art makers, the talent of our students is brought center stage.
Encouraged to think critically, creatively, and collaboratively in the process of creation as well as live performance, our pre-professional students tackle questions such as: Why do we believe this idea? What does this idea say about us as a community? What does it mean for us to gather in a space, and what is our responsibility to our community when we cannot? Join us to celebrate the work of student directors, designers, performers, managers, and producers.
Every creative act involves a leap into the void.
Last Updated: September 01, 2020