New Day Dawning: Finding Hope at the Theatre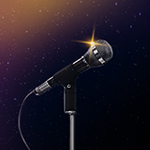 Conceived & Directed by
Chase Bringardner
Musical Director James Mablin
Choreographer Jeri Dickey
March 18th @ 5PM - March 28th, 2021

Picking up the proverbial torch from our fall season's Together Apart, this fully staged musical cabaret performance embraces what former President Barack Obama called "the audacity of hope." With this performance, we dare to envision better days ahead, carve out space for what is possible, to dream and plan for a future beyond our fractured present.
New Day Dawning will be filmed primarily on location at The Jay and Susie Gogue Performing Arts Center, with musical and dance numbers running the gamut of musical theatre, from older classics to contemporary numbers. With this offering, we will seek to create space and tell stories that encourage good vibes, provide thoughtful reflection, and generate positive energy to share with a weary world.
"Hope -- Hope in the face of difficulty. Hope in the face of uncertainty. The audacity of hope! In the end, that is God's greatest gift to us...A belief in things not seen. A belief that there are better days ahead."
Last Updated: February 22, 2021