Little Women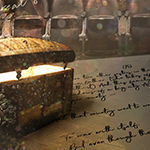 By Kate Hamill
Adapted from the novel by
Louisa May Alcott
Directed by Daydrie Hague
December 7-13, 2020

Kate Hamill's adaptation of Louisa May Alcott's beloved novel presents the classic story in a new way that resonates with modern audiences. Join Jo, Beth, Meg, Amy, and the rest of the March family as they traverse the complex terrain of adolescence and evolving familial dynamics. This production breathes new life into the text with a bright, vibrant retelling of the plight of these women as they assert themselves in the world and prove themselves anything but little.
Little Women was commissioned and originally produced by the Jungle Theater (Sarah Rasmussen, Artistic Director), Minneapolis, MN. New York City premiere at Primary Stages (Andrew Leynse, Artistic Director; Shane D. Hudson, Executive Director; Casey Childs, Founder), June 2019. Developed at the Colorado New Play Festival, Steamboat Springs, June 2018.
Available for Viewing: December 7-13
Thursday, December 10th, 2020*
*Talkback Thursday
Hamill understands that Alcott's core beliefs, if not her specifics, were invitations not to tea parties and cotillions, but to invite all women to revolution.
Last Updated: September 01, 2020