Holiday Memories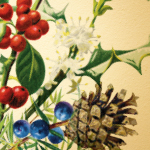 By Truman Capote
Staged version by Russell Vandenbroucke
Directed by Daydrie Hague
November 8-16, 2018
Inspired by celebrated author Truman Capote's own experiences growing up in depression-era Alabama, Holiday Memories tells the story of a friendship between two wayward souls, a precocious young boy, Buddy, and his adult cousin, Sook. Amongst pine trees, they bake fruitcakes and welcome the coming holiday season. Combining Capote's stories with traditional holiday music, Holiday Memories reminds us of the many different forms of families and the importance of our shared humanity.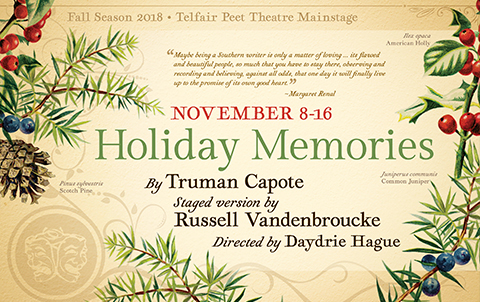 Telfair Peet Mainstage Theatre
Thurs. 11/8 7:30pm
Fri. 11/9 7:30pm
Sat. 11/10 7:30pm
Sun. 11/11 2:30pm
Tues. 11/13 7:30pm
Wed. 11/14 7:30pm
Thurs. 11/15 7:30pm*
Fri. 11/16 7:30pm

*Talkback Thursday
Maybe being a Southern writer is only a matter of loving ... its flawed and beautiful people, so much that you have to stay there, observing and recording and believing, against all odds, that one day it will finally live up to the promise of its own good heart.
Last Updated: January 11, 2019