Big Fish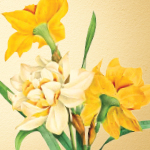 Book by John August
Music and lyrics by Andrew Lippa
Based on the novel by Daniel Wallace and the
Columbia Motion Picture written by John August
Directed by Chase Bringardner
February 14-24, 2019

Based on Daniel Wallace's 1998 novel and Tim Burton's 2003 film of the same name, Big Fish tells the incredibly tall, musical tale of Edward Bloom, an Alabama traveling salesman with a rather heightened flair for the dramatic. While his son struggles with the veracity of his father's stories and the outside world threatens to intervene, Edward recounts the larger-than-life journeys of his life complete with witches, circus canons, giants, and werewolves. Through Edward's tales, Big Fish reminds us of the importance of stories, of family, and of community while celebrating life well lived.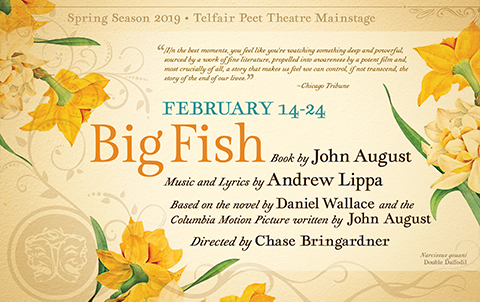 Telfair Peet Mainstage Theatre
Thurs. 2/14 7:30pm
Fri. 2/15 7:30pm
Sat. 2/16 7:30pm
Sun. 2/17 2:30pm
Wed. 2/20 7:30pm
Thurs. 2/21 7:30pm*
Fri. 2/22 7:30pm
Sat. 2/23 7:30pm
Sun. 2/24 2:30pm

*Talkback Thursday
In the best moments, you feel like you're watching something deep and powerful, sourced by a work of fine literature, propelled into awareness by a potent film and, most crucially of all, a story that makes us feel we can control, if not transcend, the story of the end of our lives.
Last Updated: February 08, 2019