Alabama Love Stories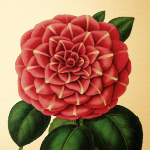 Conceived and Directed by Tessa Carr
With support from the Caroline Marshall Draughon Center for the Arts and Humanities at Auburn University
April 11-20, 2019

Alabama Love Stories is a devised piece of theatre based in archival research that also incorporates poetry, song, and physical theatre work to tell the stories of ordinary Alabamians across the 200 years of the state's history.
Collaged scenes roughly follow a chronological thread beginning with the Native American roots of Alabama history and moving through a variety of critical moments in the state's story including the Civil War, the fight for Women's suffrage, The Great Migration, WWII, and Alabama's Civil Rights legacy. Alabama Love Stories ends up in the contemporary moment exploring celebrations of love through an examination of the evolution of marriage laws in Alabama to include interracial and same sex marriage.
While there is nothing explicit in terms of language and content, this show may contain themes that challenge conventional understandings of Alabama and that some may consider offensive. This piece strives to open up conversation about the many communities that inhabit this state and focuses on love as a language to encourage dialogue and discourse.
Auburn University Theatre will also be presenting Alabama Love Stories with accessible and sensory friendly performance dates!
Accessible Performance - Saturday, April 13th at 7:30pm
Sensory/Relaxed Performance - April 16th at 7:30pm
For more information please navigate to the Access Services Page
This production will take place in the Telfair Peet Black Box Theatre with general admission seating. Doors will open a half an hour before performance time.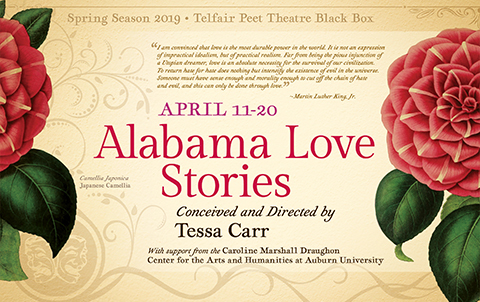 Telfair Peet Black Box Theatre
Thurs. April, 11 @ 7:30pm
Fri. April, 12 @ 7:30pm
Sat. April, 13 @ 7:30pm
Sun. April, 14 @ 2:30pm
Tues. April, 16 @ 7:30pm
Wed. April, 17 @ 7:30pm
Thurs. April, 18 @ 7:30pm*
Fri. April, 19 @ 7:30pm
Sat. April, 20 @ 7:30pm

*Talkback Thursday
I am convinced that love is the most durable power in the world. It is not an expression of impractical idealism, but of practical realism. Far from being the pious injunction of a Utopian dreamer, love is an absolute necessity for the survival of our civilization. To return hate for hate does nothing but intensify the existence of evil in the universe. Someone must have sense enough and morality enough to cut off the chain of hate and evil, and this can only be done through love.
Last Updated: March 29, 2019