Return
Department welcomes new faculty
Published on Sep 10, 2018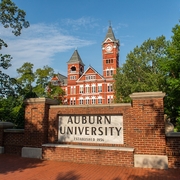 The Department of Sociology, Anthropology and Social Work welcomed five new faculty this semester.
Assistant Professor Anthony Campbell comes to Auburn from UAB where received his doctoral training in Medical Sociology and completed a postdoctoral fellowship in Health Services Outcomes and Effectiveness Research. Dr. Campbell also holds an MSW and has over a decade of social work practice experience across the continuum of health and mental health care. His teaching and research interests include mental health, health disparities, and the impact of social relationships and social support on health outcomes. He currently teaches Mental Health (SOWO 7050) and Social Work Practice with Individuals and Families (SOWO 7060).
Assistant Professor Katherine Crawford received her PhD from the University of Georgia in December 2016. Her research interests include implementation and evaluation of trauma-Informed care practices; utilization of the collective impact framework for cross-sector collaboration; organizational innovation; transfer of knowledge & implementation of best practices; trauma issues among individuals receiving services in the public service system, and mental health and substance abuse issues among justice-involved individuals. She is currently teaching the Advanced Clinical Practice and Social Work Practice with Children and Adolescents courses in the MSW program.
Assistant Professor Jennifer Jettner graduated with her doctoral degree in May 2017 from Virginia Commonwealth University School of Social Work. She is passionate about promoting food security, food justice, and food sovereignty. Her research interests also include race and privilege, inclusive community building and organizing, and sustainable community development. Jettner has teaching experience in BSW and MSW programs, including online MSW distance education. Her teaching interests include social justice and human diversity, macro and community practice, research methods, and food justice. More recently, she has overseen the development of university-wide data infrastructure to assess community engagement activities and has collaborated with other institutions in these efforts. She plans to continue advancing community engagement through her own research and teaching.
Lecturer Robert Day McConnell has taught across a range of places and settings over the course of thirteen years, including The University of Virginia, where he completed his Ph.D. in 2010. Dr. Robert McConnell's major areas of interest are sociological theory, criminology, criminal justice, sociology of religion, and prison sociology. While in the Master of Arts program at Indiana University of Pennsylvania, McConnell studied the newly emerging rational-choice theory of religion and wrote his master's thesis on this. For his dissertation at The University of Virginia, McConnell combined his interests in religion and incarceration in a qualitative study of religion in prison. He observed incarcerated men in religious services and interviewed 80 of them about their religious lives in prison. McConnell hopes to continue this kind of research in prison sociology and to further develop qualitative and theoretical understanding of crime and criminal justice.
Visiting Assistant Professor Dr. Kimberly K. Shackelford, LCSW, received her Bachelor of Science degree in Sociology from Iowa State University, her MSW from the University of Southern Mississippi and her PhD in Leadership and Higher Education from the University of Mississippi. Dr. Shackelford's career has involved direct work in the field of child welfare, child welfare training, directing and curriculum development, clinical work in an adult psychiatric unit, child advocacy and obtaining full professor at the Department of Social Work at the University of Mississippi. She has worked on a variety of public child welfare services improvement projects in Mississippi, Nevada, Northern California, Los Angeles, New Jersey, Georgia, Texas, Cape Town, South Africa, Belize, and Ontario, Canada. Dr. Shackelford is a co-author of two books with Dr. Josephine Pryce and Col. David Pryce – Secondary Traumatic Stress and the Child Welfare Professional and The Costs of Courage: Combat Stress, Warriors, and Family Survival. Her research areas are traumatic stress and the best practices for supervision in the field of child welfare.
Return