Alyssa Clements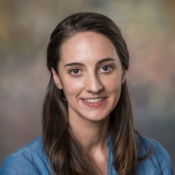 Education
PhD, University of Kentucky
About Alyssa Clements
Visiting Assistant Professor
Alyssa Clements-Hickman earned her PhD in counseling psychology from the University of Kentucky. Dr. Clements is a visiting assistant professor in the Department of Psychological Sciences at Auburn University. She is currently teaching Introduction to Psychology, Developmental Psychology, and Abnormal Psychology. Her research interests include psychotherapy process and outcome, telehealth, and clinical training and supervision.
Representative Publications
Clements-Hickman, A. L., Hollan, J., Drew, C. M., Hinton, V., & Reese, R. J. (2021). The use of telehealth in behavioral health and educational contexts during COVID-19 and beyond. In H. D. O'Hair and M. J. O'Hair (Eds.), Communicating science in times of crisis: The COVID-19 Pandemic. (pp.189-214). Wiley. [First four authors contributed equally]
Clements-Hickman, A. L., & Reese, R. J. (2020). Improving therapists' effectiveness: Can deliberate practice help? Professional Psychology: Research and Practice, 51, 606-612.
Last Updated: August 17, 2021