War Eagle Flying Team wins prestigious Loening Trophy at National SAFECON 2022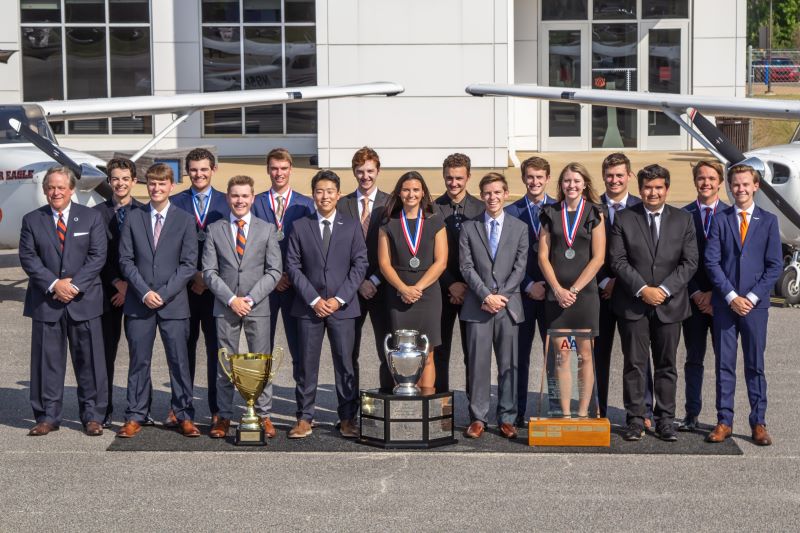 Auburn University's War Eagle Flying Team brought home aviation's top honors from the 2022 National Intercollegiate Flying Association SAFECON competition earlier this month.
The War Eagle Flying Team is a student-run organization for Auburn flight students passionate about aviation. Each year, the team competes in NIFA's SAFECON, a national competition for collegiate aviators. Teams and individuals are judged on academics, safety, professionalism and more, and this year, the War Eagle Flying Team took the top prize.
The Loening Trophy, collegiate aviation's oldest and rarest award, was first awarded in 1929 by a judging panel that included aviation legends such as Charles Lindbergh and Amelia Earhart. The award itself is named after Grover Loening, an aeronautical engineer who worked with the Wright Brothers.
Professional flight senior Blake Adkins said this major accomplishment shows the War Eagle Flying Team can place competitively among other nationally ranked teams.
"To me, the Loening Trophy not only represents the innovation and progress of Auburn Aviation over the past years, but it shows that we are truly a world-class program," Adkins said. "It is humbling to know that I was a part of a team that brought this prestigious trophy home to Auburn University for the first time. All the students, professors and faculty work so hard every day, and this trophy shows that this work is being recognized around the aviation community."
In addition to the Loening Trophy, the War Eagle Flying Team won the American Airlines Safety Award, Competition Safety Award and Collegiate Aviation Progress Award in the team category. Individually, team members were awarded numerous top-10 placements at the competition, which hosted more than a hundred entries across all events.
Incoming War Eagle Flying Team President Christopher Hopkins said the team's passion, dedication and the long hours spent preparing for the national competition not only won prestigious awards but makes everyone involved a better aviator.
"Our team's accomplishments this year is proof that hard work does pay off," Hopkins said. "It takes everyone on the team working in collaboration with one another to make our success. The achievements this year are only the beginning. As Auburn aviators, the future is bright for this team and our program, and I am excited to see what we will achieve together."
School of Aviation Director Jim Witte said the War Eagle Flying Team's performance displays the skill, knowledge and attitude of future aviation leaders. The Loening Trophy, Witte said, highlights not only their flying expertise, but their academics, community involvement, comprehensive safety and professionalism.
"The Loening Trophy is the 'Super Bowl' of all collegiate aviation competitions," Witte said. "Pride, respect and humility are all part of the award; Auburn students have maintained the standards of the Auburn Creed penned by George Petrie and have brought a point of pride, respect and humility to the Auburn Family."
See the War Eagle Flying Team's full list of awards below:
Team awards
The Loening Trophy
American Airlines Safety Award
Competition Safety Award
Collegiate Aviation Progress Award
Judges Trophy, 10th place
Ground Events Championship, 10th place
Flight Events Championship, 9th place
Individual awards
Men's Achievement Award, 2nd place, Eric Tivy
Women's Achievement Award, 3rd place, Maggie Hearn
Instrument Simulated Flight, 5th place, Riley Hoag
Message Drop, 7th place, Riley Hoag and Riley Colliau
Unlimited Navigation, 7th place tie, Eric Tivy and Luke Russo
Unlimited Navigation, 7th place tie, Thomas Bingham and Christopher Hopkins
Unlimited Navigation, 9th place, Ashley Baldwin and Maggie Hearn
Ground Trainer, 8th place, Riley Hoag
Simulated Comprehensive Aircraft Navigation, 17th place, Eric Tivy
Outstanding Team Member, Riley Colliau
For more information about the School of Aviation at Auburn University, visit here.
Tags: Aviation
Related Articles
---