Trailblazers Franklin, Williams highlight Auburn's fall commencement ceremony
Five decades later, Franklin defends dissertation and rightfully earns master's degree in history
Fifty-six years after first walking onto the Auburn University campus, Harold Franklin walked across the stage to be honored as part of the fall commencement ceremony at Jordan-Hare Stadium on Saturday morning.

The 88-year-old Sylacauga, Alabama, resident—who integrated Auburn as the university's first African American student in 1964—received a copy of the Auburn Creed and was joined on stage by Board of Trustees member and College of Liberal Arts alumna Elizabeth Huntley for the occasion.

"I'm just about speechless after all these years," said Franklin, a 1962 Alabama State College honors graduate who served in the U.S. Air Force. "I realized it wasn't going to be easy when I came here as the first African American to attend Auburn, but I didn't think it would take this long. It feels pretty good.

"I'm glad I could do something to help other people, and my mom and dad always taught us that, when you do something in life, try to do something that will help others as well."

In 2001, Auburn honored Franklin as its first Black student by awarding him an honorary doctorate of arts and in 2015 erected a historic marker in Franklin's honor near the Ralph Brown Draughon Library, where he first registered for classes on Jan. 4, 1964. After defending his master's thesis in February, Franklin was unable to participate in commencement ceremonies in the spring after the university was forced to postpone them due to the COVID-19 pandemic.

Huntley was thrilled to join Franklin on the special day.

"It's a great day in the life of Auburn," Huntley said. "Auburn's doing the right thing today and is doing something that should have been done a long time ago. I would not be here had it not been for Dr. Franklin's courage to be an Auburn student in isolation during a dark time in our history. It takes a tremendous amount of courage to do the right thing and create opportunity for others.

"He's the trailblazer, and he's the one who had to endure everything he had to endure to break that barrier for students like me, my husband and all the African American students who came after him. Thank you so much Dr. Franklin for your tenacity, your perseverance and your Auburn spirit that is not afraid. I'm just honored, and nothing was going to keep me from being here this morning to be a part of this."

After leaving Auburn in 1965, Franklin went on to earn a master's degree in international studies from the University of Denver and taught history at Alabama State University, North Carolina A&T State University, Tuskegee Institute and Talladega College before retiring in 1992.

Franklin, who defended his master's thesis in person on Feb. 19 after decades of waiting for the opportunity, also participated in a hooding ceremony for Auburn's first female African American doctoral graduate in the Department of History, Shari L. Williams, during the festivities.

"I'm overwhelmed, and it was an honor to be hooded by Dr. Franklin," said Williams, who runs the nonprofit The Ridge Macon County Archeology Project. "I would describe it as the cherry on top of the wonderful experience I've had in my program. I didn't know when I enrolled that was the case [of being the first], but I'm just excited and very, very happy about it."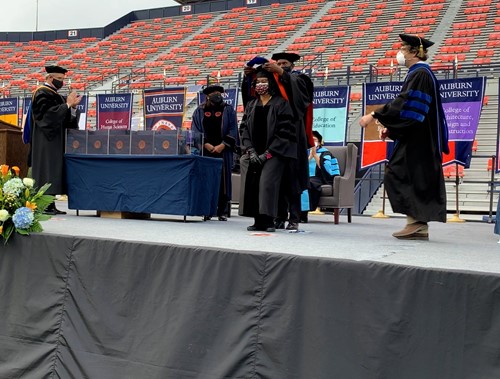 Franklin was pleased to end 2020 on a high note and bring his Auburn journey full circle by participating in commencement. He offered his fellow graduates a word of advice as they embark on their future journeys.

"Do your best and be honest," Franklin said. "Treat everybody with respect, and if they don't treat you with respect, don't associate with them. That's what I've tried to do all my life."

All totaled, nearly 2,000 fall graduates flipped their caps during the daylong commencement ceremony, with approximately 200 spring and summer graduates also electing to participate. Of those, 71 were doctoral degrees, 353 were master's degrees, seven were education specialist degrees and 1,500 bachelor's degrees.
Related Articles
---