Claire Ruggles finds academic success in interdisciplinary studies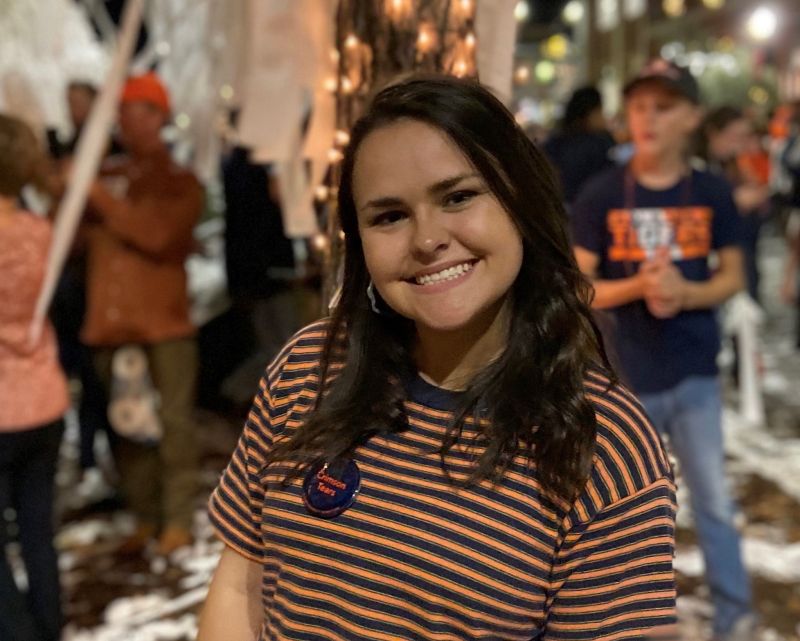 Clair Ruggles, an Alpharetta, Georgia, native, is an interdisciplinary studies student who is pairing communication, business, and leadership to pursue a career in the administrative side of worship ministry. 
Would you please tell us about yourself? 
My name is Clair Ruggles and I am from Alpharetta, Georgia. I chose Auburn because it felt like home and I felt that God was putting it on my heart to be in this city. I'm pursuing a degree interdisciplinary studies (IDSC) and emphases in IDSC are communication, business, and leadership. I hope to use these skills in an administrative role in worship ministry. 
What has your experience as a student at Auburn been like? 
My experience at Auburn has been a mostly positive one. Switching majors multiple times was stressful and took a toll on me mentally, but once I joined interdisciplinary studies I finally felt like a degree was in the cards for me. I was involved in the Auburn University Marching Band for three years and took so much from it. Dr. Spurlin and Dr. Gross work hard to instill life skills that we can take with us outside of college, and I am very grateful to have been apart of the program. 
What has been your favorite class so far (or favorite professor?) And why?
My favorite classes have been all of my IDSC classes. Our cohort is so fun and diverse. We all support each other and it doesn't feel competitive. This is great because you build genuine friendships and you're not competing against your friends for a place in the program. Those classes are where I have found some of my best friends. 
What do you want to do when you graduate from Auburn?
After I graduate from Auburn I hope to work in worship ministry as a music director. I currently have an internship for the summer lined-up where I would be working on the administrative end of worship ministry.
Do you think your education and experiences in interdisciplinary studies have prepared you for success? 
I really believe that the ability to study multiple things has prepared me more than anything to be successful in ministry. I think that all three of my emphases have prepared me to be a great leader as well as manager, which are important skills to have in a team environment such as the one I will be in. 
Is there any advice you'd like to share with new students?
I wish someone had really assured me that not knowing what to major in is a big part of most students' experiences. I stressed out every time I changed my major and never really saw graduation as an option until I realized that most college students change their mind at least once. I changed mine three times, and that's okay, I wouldn't have it any other way. 
Related Articles
---