Support the College of Liberal Arts on Tiger Giving Day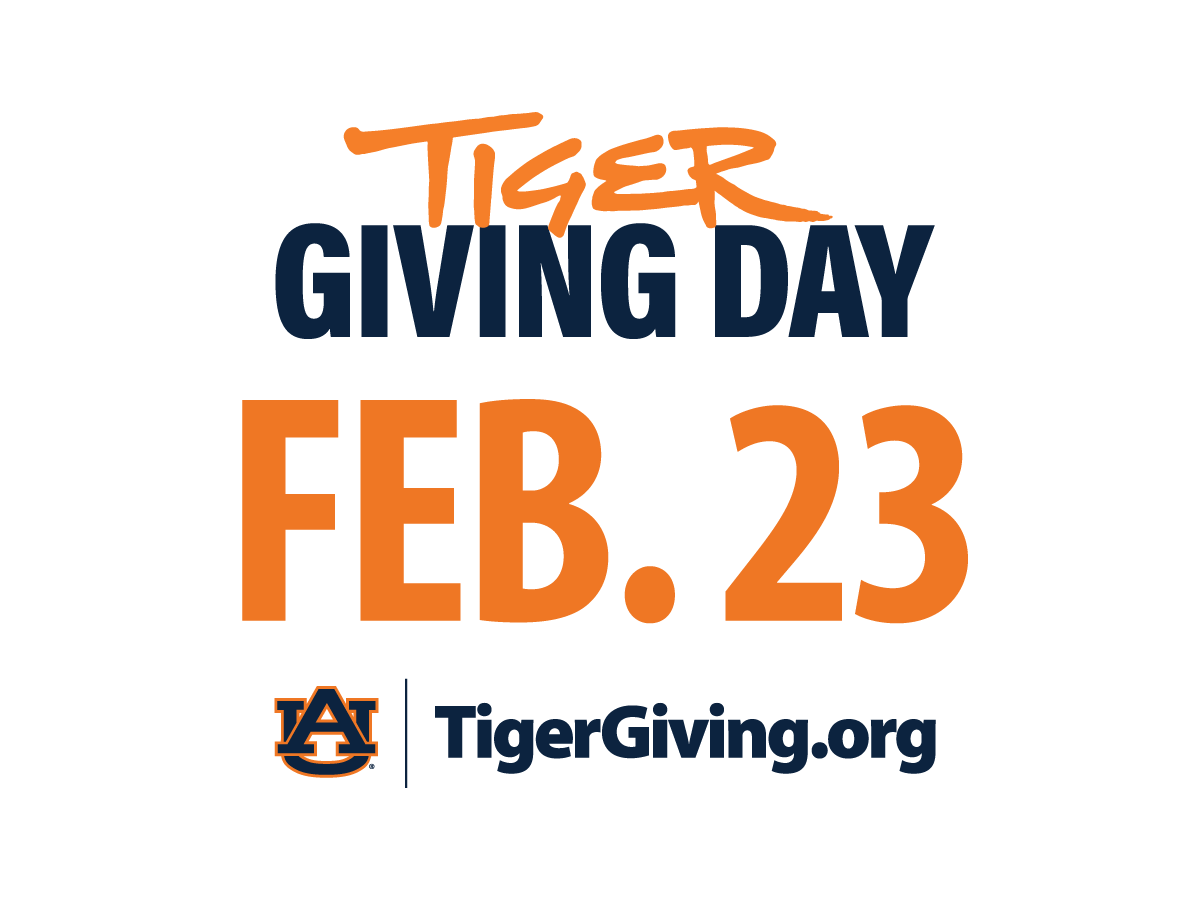 Auburn University's seventh annual Tiger Giving Day will be held on Wednesday, Feb. 23, 2022. Tiger Giving Day is a 24-hour university-wide crowdfunding initiative. The College of Liberal Arts' seven projects this year will expand opportunities for faculty and students to serve the community.
CLA projects include:
• The Department of Music seeks funds to purchase musical instruments and sound equipment for the student commercial music ensemble Sonic Nation. Guided by music faculty, Sonic Nation is managed by students who do everything from choosing their songs to booking their own gigs to setting up and operating sound equipment. Currently, the group borrows instruments and equipment from other ensembles, which causes scheduling problems and undue wear and tear on the equipment.
• The Department of Political Science asks for support to host the Auburn Model United Nations Conference in April. Funds will be used for general event expenses and to support scholarships for high school teams to travel to campus for the one-day conference. The regional conference enhances the reputation of Auburn University and is an excellent recruitment tool for prospective students.
• BraveHearts Center for Place and Purpose, or BCPP, seeks funding to purchase a golf cart to provide transportation of its participants around Auburn's campus. BCPP is a health, wellness and inclusion-focused day program for young adults with moderate to severe disabilities. Participants serve as Community Inclusion Ambassadors in the community. A cart will support and expand BraveHearts' participation and engagement in the Auburn campus and community experience.

• AU Brain Camp in the Department of Psychological Sciences will raise funds for laptops, participant fees, and scanning costs. Brain Camp is a week-long, on-campus program for high school juniors and seniors interested in neuroscience. Students participate in hands-on activities, culminating with the rare opportunity to map their own brains.
• The Auburn University Psychological Services Center and the Center for Autism Research, Treatment and Training seeks funds to support services to families of children with autism. The centers' goal is to serve more families in the community and increase the number of graduate student trainees providing both in-person and telehealth options.
• The Department of Aviation will use their funds to refurbish a 1945 Ercoupe, a low-wing monoplane aircraft. The project includes stripping old paint, finishing the aluminum body, adding striping to match the Auburn fleet and reupholstering its red and white seats. The refurbishment, which is expected to take six to nine months for completion, will restore an important artifact of aviation history to its former glory.
• The AU Speech and Hearing Clinic plans to bring hearing health to the Black Belt region of Alabama. Funds raised will be used to establish a mobile clinic by purchasing hearing equipment that can be easily transported. The clinic will bring education, assessment and treatment to people of all ages in this underserved part of the state and serve as an important real-world training opportunity for Doctor of Audiology students.
Full details and goals for each project are available at rise.auburn.edu.
Tags: Music Political Science Sociology Anthropology and Social Work Psychological Sciences Aviation Speech Language and Hearing Sciences
Related Articles
---