Learning about sustainability has made a difference to Evanthi Hettiaratchi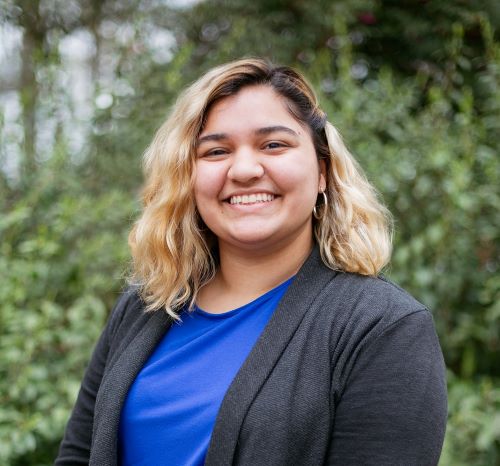 Evanthi Hettiaratchi is a junior Environmental Design major with a minor in Sustainability Studies. Hettiaratchi says taking on a sustainability minor has impacted her choices - both in everyday life, and in her career plans.

Why did you declare a Sustainability Studies minor?
I hoped to learn more about the issues we face due to unsustainable ways of life and possibly steps that we can take to reduce our negative impact on the climate and the Earth, which is an objective I think I met. I also hope that having a sustainability studies minor will make me marketable for certain types of jobs and sort of narrow down the broad scope of my major.

What are the most important lessons that you have learned from your Sustainability minor?
The amount that I've learned about how extensive our climate and sustainability issues are is probably the most important thing I've taken from my classes for the minor. Even after taking just the intro course, I thought about sustainability so much more often in my daily life and I brought it up in conversations more. Each class I've taken since that intro course has only intensified that; I think about what the more sustainable option is for nearly every choice I make, from the products I buy to how I'm getting from one place to another. The sustainability minor also opened my eyes to how interconnected so many things are and how, in order to make a sustainable choice, you have to consider so many different variables.
I also think taking the sustainability minor has somewhat changed my career plans. I think I'm more committed to making whatever I do more sustainable. Even if I don't get a specific job focused on sustainability, I want to use my knowledge and bring sustainability to the forefront of every discussion. I don't think this indicates a change in values, so much as an increase in passion to make a difference this way.
What was the most memorable course you took in your sustainability minor? What made it stand out, and what did you learn from it?
Every course I've taken for the minor has stood out in its own way, but I think I'm going to say that the Intro to Sustainability course was the most memorable for me. I have referred back to materials from that class multiple times for other classes (both in and outside of the minor). It laid a really good foundation for the rest of my time here at Auburn, not just in sustainability courses, but helped me start thinking in terms of systems, which is really important for my major, if not for my life. I still think about a lot of activities we did, like the journals for waste, water, clothing, etc. It was just a really good class. It did a great job of being a broad introduction and it wasn't too assignment-heavy, but it was also interesting and made me think critically about sustainability issues. And obviously, it got me interested enough to declare the minor almost immediately, so it really changed the course of my path at Auburn.
Would you recommend the Sustainability Studies minor to another student? Why or why not? What would you say?
Yes! In fact, I have recommended the Sustainability Studies minor to at least one freshman. I would tell them how much I've learned, of course. I also would emphasize the flexibility and the relative ease of getting the minor. It's not a lot of hours to take, and you can take it in things you're interested in or things that are relevant to your major or career path. Sustainability is important for the future and relevant to every industry, so there's no way it wouldn't be beneficial and marketable. And it's fun!
What are your plans for the future (short term and/or long term)? Will you use what you've learned in your Sustainability courses?
I really hope I will use what I've learned! Like I said above, I really hope to take this knowledge and intent into whatever I do. I don't quite know exactly what that will be yet because I don't graduate until summer 2022, but I see a lot of possibilities out there. I think I want to look for sustainability-focused jobs/companies, but I'm not sure what type of job I'll be looking for yet.
Tags: Students Interdisciplinary Programs Academic Sustainability
Related Articles
---