Interdisciplinary Studies spotlight on Messiah Williams-Cole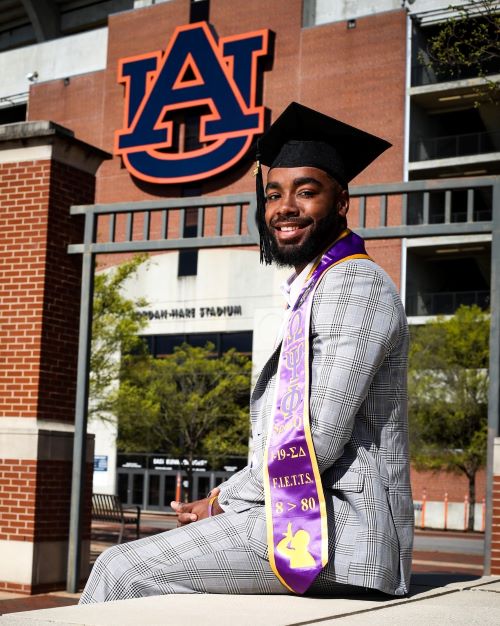 As an interdisciplinary studies student, Messiah Williams-Cole was able to graduate from Auburn with a unique degree. He studied the subjects that interested him most: political science, business, and civic engagement, while also working on a minor in biology. Williams-Cole is also the mayor of his hometown of Camp Hill, Alabama. He hopes to use all his experiences, including attending law school, to systematically evaluate, tackle, and improve issues within Alabama, especially in public education. 
Would you please tell us about yourself? 
I'm from Camp Hill, AL - a small town about a 25 minute drive from Auburn. I chose Auburn after a visit late in the college application process because it was the only school that made me feel a sense of pride about it. Everyone who I encounter during my visit was happy to be at AU and it spread to me. After graduation, I'm attending law school and continuing to serve as mayor of my hometown.
What made you decide to major in Interdisciplinary Studies? What are your emphases within the IDSC major and how did you choose them?
I wanted to major in IDSC because it allowed me to only take classes I was interested in. Initially I was a biomedical sciences major, but after realizing I didn't want to be a doctor it made the most sense for me to learn as much as holistically as possible. My emphasis areas are political science, business, and civic & community engagement. I chose these areas because I wanted to learn how to systematically tackle and evaluate problems within Alabama. I also wanted to know how engage others and create true change in communities.
What has your experience as a student at Auburn been like? (What activities are you involved in/with? And why/how did you choose them?)
As a student I immersed myself in programs that made me happy. During my freshman year I was at every home sporting event that I could be at, and as I aged I began to join programs that coincided with my academic areas while providing meaningful out of class experiences. I worked with the Caroline Marshall Draughon Center for the Arts and Humanities as well as the Center for Educational Outreach and Engagement. Both departments allowed me to work with youth, which I loved. I also joined Omega Psi Phi Fraternity, INC - a decision that allowed me to work with others across the country and state to advance positivity and social action.
What has been your favorite class so far and why?
My favorite class has been any class with Dr. Mark Wilson because of coexistence of class work/readings with outside work. In one class we worked with elementary students to document local veterans. In another class, we worked with the Shorter, AL leaders to rehab an abandoned cemetery. Both allowed me to immerse myself in a new environment while learning about community needs and hearing the experiences and perspectives. Dr. Wilson's message and philosophy on empowerment will stay with me for the rest of my life.
What do you want to do when you graduate from Auburn?
I'm going to law school at the Thomas Goode Jones School of Law. After getting my JD, I may attempt to return to Auburn for a PhD in Public Policy and continue to aid my community in any way possible. I would also like to learn more about how to improve Alabama Public Education
Do you think your education and experiences in Interdisciplinary Studies have prepared you for success? (if so, how?)
I think my experience within IDSC has prepared me for success. The biggest way is being able to identify real world problems and apply knowledge among with research to create innovative, practical solutions to community problems. I also think working with wicked problems has made me realistic on my approaches and helped me to realize that failure isn't a detriment, just a delay.
Is there any advice/wisdom you'd like to share with new students?
It's not that anyone can do it – it's that anyone willing to work and put forth the effort can do it. Auburn has all to tools for you to succeed, but you have to find and use them!
Related Articles
---