"I'm lucky I like to stay up late." How Boying Lu has made the most out of COVID-19
Auburn PR student is working toward graduation while in China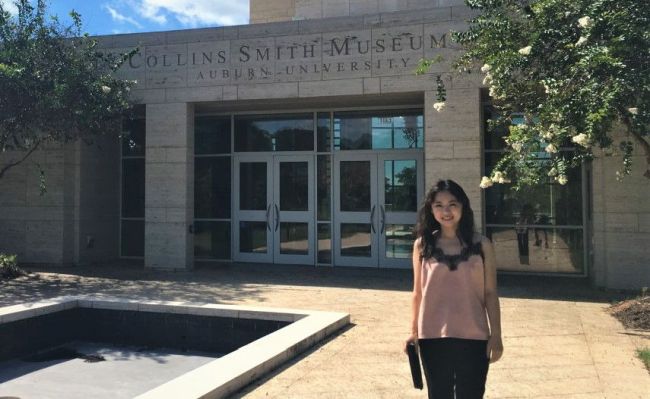 In March 2020, Boying Lu was faced with a situation unlike any she could have imagined. As news spread that the COVID-19 pandemic was going to be more serious than most had anticipated in the United States, Lu decided to pack up a few of her belongings in her small apartment in Auburn and book a flight home to Shanghai, China. While the uncertainty of her decision gripped her, she knew she had to act fast. 

As she waited at the crowded airport in Atlanta, she realized her flight home was going to be one of the last ones to be able to leave the United States. She took a deep breath, grabbed her bags, and boarded the plane, not knowing this would be one of the many times the COVID-19 pandemic would stake a claim on the life she had previously known in the United States.

For many, life has been tough the past few months, and for Boying Lu, it has been no different. "It felt like the international students were the guys in the middle. We were blamed for the virus in the United States and when we came back to our own country, China, they didn't want us here either because they thought we would bring the virus back with us."

Many people back home who she knew, and some she even called friends, posted on the social media platform Weibo saying things like, "If you wanted to leave China to study in the United States, why are you deciding to come back now with that virus?" As her smile faded and her voice grew quiet, Lu said, "The negative voice is loud on the internet. It's really hard to ignore."

When she arrived at Chicago O'Hare International Airport for the first time in 2012, Lu was 17 years old and had high hopes for her plans to study at one of the most well-known universities in the United States among Chinese people—Purdue University. As she boarded the bus to drive to Purdue, her eyes were droopy and her mind was jet-lagged from her nearly 32-hours of traveling. As she looked out the window, she recounts driving further and further away from the airport and wondering when her school would show up. "I remember saying to myself, 'Where is my school?' I only saw windmills and corn."

While at Purdue, Lu pursued a degree in economics, although she said she had no idea what a career in economics would look like in the real world. She picked economics because her family recommended it, but when she began studying and applying what she was learning, she realized she was not enjoying it. In addition to her lack of interest, her grade point average clearly showed she and economics did not mix well. "I decided to move back to China when I left Purdue. It was a really hard time for me. I worked for two years and stopped going to school."

In her spare time, Lu took public relations classes online. She realized how much she enjoyed public relations and how she felt better suited for the field of PR. Although she had missed her chance in China to attend college, since students only have a certain window to attend, she decided if she wanted to go to college, she was going to have to study abroad. She came back to the United States in 2018 and began to study public relations at Auburn University.

Just as her dream of graduating from Auburn seemed close, a global pandemic choked her idea of finishing school in the way she thought she would. While her family is still in China, Lu was in the United States when the COVID-19 pandemic began to affect school and travel.

"The pandemic started in January and I was worried for my family every day until March, but at some point, you get used to it. I just became numb," she said.

Now back in Shanghai with her family, Lu said she misses the United States and wishes things could go back to the way they were before. In March, when the university decided to transition to online classes, Lu returned to Shanghai, not knowing what would happen if she decided to stay in Auburn or leave.

In the midst of the chaos, Lu has continued to keep her eye on the prize of graduation and anticipates graduating in August 2021, although it will not be easy. Shanghai is 13 hours ahead of Auburn making it nearly impossible to log on to synchronous classes at a traditional time of day. Lu says during the daytime in China, it is very difficult to get an internet connection. There are too many people and not enough cell towers, making it nearly impossible to log on.

The time difference between continents and difficulty in receiving connection has created the perfect storm in order for Lu to fall behind, but she presses on, even with a full course load on her shoulders. "My family and I have dinner together every night, but that is the only meal we share because my schedule is so different now."

When it comes to attending class, Lu can be found beginning her school day at 2:00 am and finishing around 9:00 am, then sleeping until dinnertime, and repeating it all over again the next day. "Honestly, I am lucky because I like to stay up late. Many other people are having trouble staying awake, but not me, I don't mind."
This semester, Lu's multimedia journalism class meets synchronously on Zoom every Monday, Wednesday, and Friday at 1:00 pm CST. According to her professor, Gheni Platenburg, Lu has requested no extra accommodations and communication has been seamless even though she is working 13 hours ahead of everyone else.
Platenburg is used to teaching online classes and it is not new to her to have students who are located all across the country. "I commend those students, like Boying, who aren't in the country," Platenburg said.

She added, "Flexibility, showing people grace, and inclusivity is so important during this time. In online classes, you can lose some of that interaction that comes with being on campus and being in the same space, but if you aren't even in the country, that can add another layer to the fear of missing out. I hope I'm doing my best as a faculty member to alleviate some of that feeling."
Although the situation is far from ideal, Lu says her family has been supportive of her needs in order to finish her degree. "They are okay with me doing just about anything except going back to the United States right now. They just want to keep their children safe, which is what most Chinese parents want. It's just not realistic to them to take the chance of losing me."

For now, she is staying motivated by dreaming of the day that she can make the 7,681-mile trek back to Auburn. As soon as she can, she said she plans to invite all her American friends over to share a bowl of hot pot, her favorite food from home, to celebrate.
Tags: Students International Initiatives Communication and Journalism
Related Articles
---