30 Under 30: Madeline Burkhart, '15, adult education coordinator and curator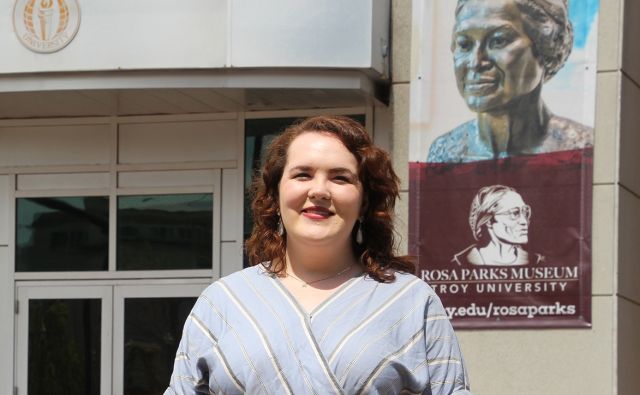 Madeline Burkhart graduated in 2015 with a degree in art history. A museum educator and curator, she was recently named to Blooloop's Top 50 Museum Influencers of 2020. Burkhart says Auburn helped her develop interpersonal skills and public speaking skills by putting both into practice during her time in the Department of Art and Art History.  
Q: Describe your current position.
A: As the adult education coordinator and curator, I handle all of the temporary art exhibitions for the Rosa Parks Museum. I'm in charge of graphic design and social media. I also assist all of the interns and volunteers. I've done a little bit of fundraising, and I can also be seen giving tours. On occasion, I can even be seen working in the gift shop and planning events.
Q: What has been your favorite part or experience(s) of your job so far?
A: I work with the collections and restorations management aspects of the business. We had an exhibit last fall and needed Rosa Parks' fingerprints. Her main prints live in the State Archives building, so I went there and pulled her fingerprints. It was a totally surreal moment—just me in my gloves holding onto this very vital piece of American, if not international, history. While I was there, a young girl walked by, and I asked her, "Do you want to see something really cool?" I told her these were Rosa Parks' original fingerprints and her actual signature and that no one else today is going to see this. I explained to her that this is what it would be like if you wanted to work in a museum—you'd get to handle some really cool artifacts. The girl and her family had come all the way from California and I had no idea.
Q: What classes and/or professors best prepared you for your future career?
A: I wish I had taken more classes with Dr. Kathryn Floyd in the art history program. I only had one class with her, but now that I'm out of college, I've worked with her on so many projects. She was our guest curator for our African American art show here at the museum. I got to travel to Savannah, Georgia, with her and work one-on-one, picking out works of art for an exhibition at the museum. She's been a big support system for me post-college, and I wish I would have spent more time with her while I was at Auburn.
Watch Madeline Burkhart's Thirty Under 30 interview.
Related Articles
---