News

|

Articles

|

30 Under 30: Jackson Moore, '16, Aviation Operations Coordinator U.S. Antarctic Program
30 Under 30: Jackson Moore, '16, aviation operations coordinator in the U.S. Antarctic Program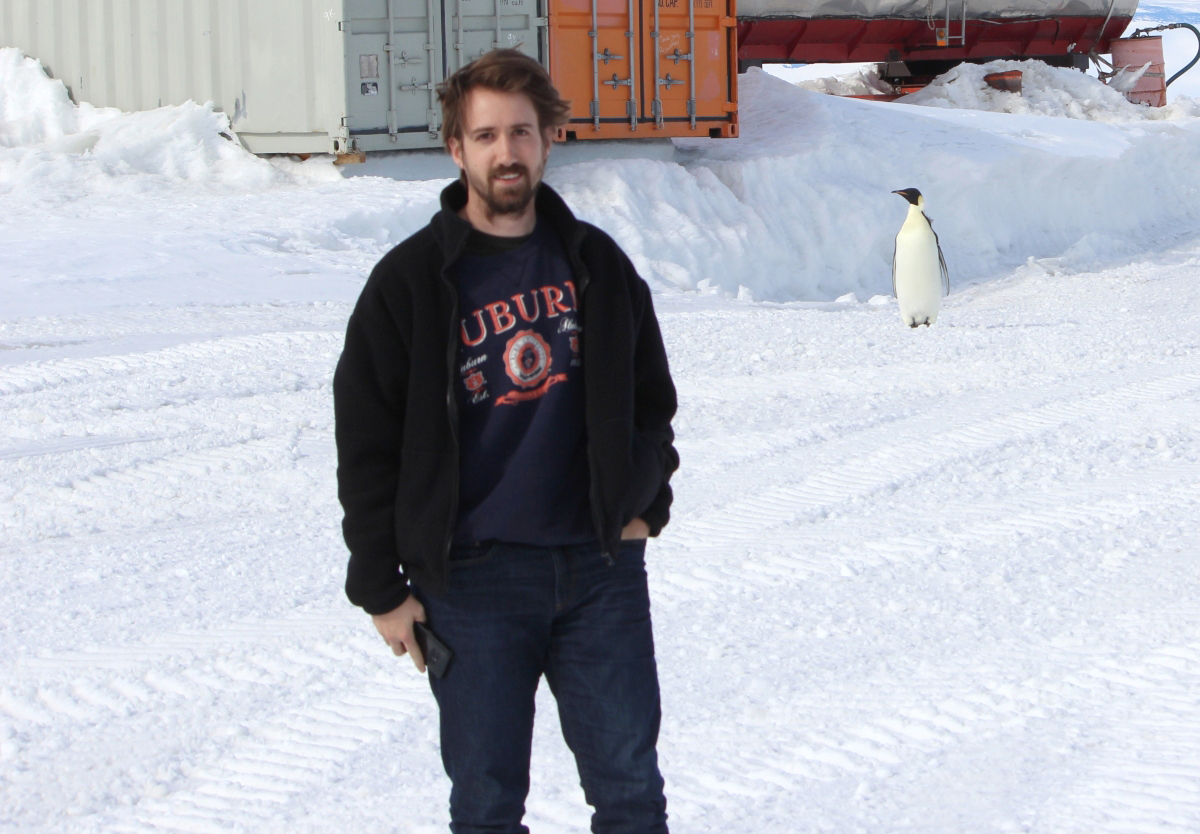 Jackson Moore is originally from Nashville, TN, and graduated from Auburn in 2016 with a degree in aviation management. Moore began his dream job as the aviation operations coordinator in the U.S. Antarctic Program in December 2018. In this role, he is a member of a three-person team that plans and coordinates all the science and cargo missions for U.S. fixed wing flights between Christchurch, McMurdo, South Pole, and all field camps. He works with industry-leading scientists, world-class pilots and generals. 
In our interview with Moore, below, he talks about his Auburn experience, his aircraft obsession, and how he plans to improve the world through aviation. 
You have a bachelor's degree in aviation management, how did you first develop an interest in this field? I obsess over aircraft design, the utility of aircraft, and the act of human flight. It is an exciting time to study and be involved in aviation because new technology will bring exciting changes to future aircraft and I want to be a part of those changes. I chose my major because it was flexible and allowed me to study fascinating material and apply for a variety of roles at aircraft manufacturers.
 
How did you chose to attend Auburn? I considered Auburn because it has a well-known aviation program and I am lifelong fan of the Auburn baseball and football teams. While in high school, I spoke with a recent graduate who had studied aviation management, and I decided that it was a major that would be interesting to study and allow me to pursue my dreams.
What was your career path after graduation? I took six months to travel and focus on flying before I began working for Bell Helicopter as an aeronautical accessories representative. My team at Bell was passionate, diligent, and encouraging. They taught me about international business, using data to make decisions, and the value of being an expert on your technology. While at Auburn I had learned about the U.S. Antarctic program and had dreamed of landing a job on their aviation logistics team. I applied every year for three years, but never been tapped. One Tuesday in December, in my office, I received a call from the Antarctic program offering me the aviation operations coordinator role and asking if I could leave next week. Ten days later, I was on a flight to Christchurch, New Zealand, to begin my initial training. 
Would you please describe your current role as an Aviation Operations Fixed Wing Coordinator at McMurdo Station, Antarctica? Antartica is vast and challenging to traverse on land, so aircraft equipped with ski landing gear are used to move people and equipment between bases and field camps. I am a member of a three person team that coordinates between the scientist and flight crews to plan and execute all U.S. fixed wing flights during the science season (October-February). Planning involves scheduling, plotting the course, landing site surveillance, estimating fuel burn and fuel stops, weight and balance calculations, and assembling passengers. Every day begins with a weather meeting with the pilots to decide if conditions will permit the planned flights. The rest of my day is spent monitoring and assisting their mission and meeting with scientist to plan missions for upcoming days.
 
What has been your favorite part or experience(s) in your job so far? At the end of the season many scientists and pilots stopped by our office to say thanks, share stories, and exchange feedback so that we can achieve even more next season. Hearing how my work benefited the program was extremely satisfying, and getting a glimpse of their research makes my role meaningful.
In order to be familiar with the aircraft, landing sites, and conditions in Antarctica, I sometimes join missions in the field. Traveling to Deception Glacier at the base of the Warren Range was a particularly unforgettable adventure. The Twin Otter Aircraft crossed the fringes of the Trans-Antarctic mountain range with ease, and gave us a great view of alligator ridge on our approach. The supplies and tents we were sent to collect had been partially buried by snow. We worked hard to dig them up and load them through the small cargo door of the airplane. When we finished, we paused before taking off to appreciate the beauty of our surroundings. It was satisfying to look at the campsite and see our tracks were the only remaining evidence that humans had been there. With our work completed, we took off for the return flight to McMurdo. A snow storm had developed over the McMurdo airfield while we were away and the visibility was terrible. Unfazed by the conditions, the flight crew lined up with the runway, stuck to the gradual descent and calmly waited for the skis to touch down.
What classes and/or professors do you feel best prepared you during your time as a student for your future career? Aviation Weather: Instead of just learning types of storms, weather conditions, and obscure terminology, studying weather in college helped me understand our atmosphere and what causes weather. Some of the material in this course can save your life. I kept my aviation weather textbook and have taken it off the shelf many times.
Business writing: Since writing my first book report I learned to write descriptive paragraphs that thoroughly explain my ideas and opinions. The business writing course shook this foundation and replaced it with a very different ideology: to communicate with the fewest words possible. I am grateful for this course because it has been important to every email, text, and presentation in my work at Bell Helicopter and in Antarctica. 
What are some key skills that you developed while at Auburn that you think best prepared you for the job market/real world? Concise writing, interpreting and using statistics to support an argument, economics, creating and delivering presentations, foreign languages, and hard work.
 
What one piece of advice would you share with an incoming freshman at Auburn who hopes to one day have a job in aviation management? There is more to the aviation industry than the airlines. Most of my classes were focused on airline business to prepare students to work at one of the large air carriers. The airlines are the biggest sector today, but students should not disregard the rest of the industry. There is a massive variety of aviation jobs. Consider how you want to change the world, then identify a company with leadership that is working towards the same goal and apply to work there.
What's next for you? Any long-term career goals or aspirations? I would like to continue working in Antarctica. In the off-season, I plan to wrap up my commercial helicopter rating. This will open up new types of jobs as a pilot but also make me a more well-rounded employee at an aircraft manufacturer or design company. As for long term, I would like to help design, manufacture, and distribute a new type of practical and affordable vertical take off and landing aircraft. I believe a revolutionary aircraft design could change the world almost as much as the 1903 Wright Flyer. That is my aspiration: to improve the world with aviation.
Tags: 30 Under 30 Alumni Aviation
Related Articles
---