Sonic Nation is a commercial music ensemble directed by Professor Jilla Webb and Professor Patrick Bruce.  This ensemble performs all styles and genres of commercial music. Our shows and concerts contain both cover songs and original material. Our recorded original music is soon to be released on all streaming platforms, accompanied by music videos of some of those songs on the Music Department's YouTube channel. Sonic Nation meets every Tuesday and Thursday from 5:00 p.m. to 6:00 p.m. in Goodwin Hall, room 134.  
We do a high energy full band show and also a more unplugged singer songwriter showcase; or we can do a combination of both. You can follow us on Instagram, Facebook, Linkedin, and Tiktok by searching @sonicnationau on all platforms. 
If you are interested in booking Sonic Nation, please contact:
Contact: Jilla Webb (jrr0068@auburn.edu)
Audition required: Yes
Open to: AU students of all majors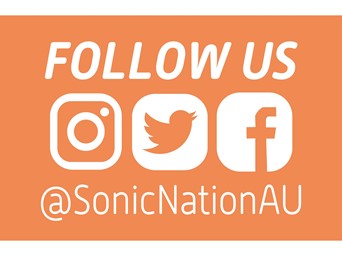 Sonic Nation Auditions
Interested in joining Sonic Nation? Auditions will be held during the month of April through the first week of fall classes. Please email jilla.webb@auburn.edu for exact details.
Prepare two songs. No more than 4 minutes total in length for both songs.  

2 Contrasting songs: Songs can be any published popular song from the 1920's to current music. Categories can include musical theater, published folk songs, jazz, blues, rock, pop, rap, country, Christian, R&B, indie, alternative. Any popular genre with contrasting style, tempo, and/or mood.   
One of the two contrasting songs can include an original song submitted with a lyric and lead sheet if there are vocals and chord or drum chart if it is an instrumental.  
If the audition is conducted via video, we must be able to see your full body. Prepare an introduction to each piece. Video should show your stage presence and communication skills.  
Sonic Nation will not provide an accompanist. You may use a backing track without the vocals, play acoustic or electric guitar, piano, bass, or drums.   
No A Cappella.  
Professional artist attire is recommended. 
The student will be responsible for sending charts, lyrics, a list of titles, composers, and keys of all repertoire to be performed prior to the audition date. This list should be emailed to jilla.webb@auburn.edu.
You will receive an email to let you know if you have been invited to join the group or for a call back audition. Call back auditions will be held within the following two weeks. After the call back audition, you will receive an email within 7 days to let you know if you have been selected for the group. Call back auditions will be held in person and via Zoom if you cannot join us on campus. A Zoom link with be provided prior to the all acks. 
Questions? Contact Professor Jilla Webb at Jilla.webb@auburn.edu.