Music

|

Persian Music Ensemble
Auburn University's Persian Music Ensemble is a one-credit music course offered by the Department of Music to perform Persian classical and traditional music, including radif and tasnifs (vocal repertoire). The Persian Music Ensemble is a group class in which students learn gushe (short melody-type) or a vocal composition of a designated dastgāh (multi-sectional modal structure) phrase by phrase through improvisation. Each semester, we study and perform major gushes and four vocal compositions within a particular dastgah.
Our study of Persian music begins with the tombak and daff, two percussion instruments, followed by the tar, setar, kamancheh, and santoor (traditional Persian instruments). During this class, we introduce right and left hand strokes and gradually work on the primary rhythmic cycles involved in performing and accompanying measured compositions. As a new aspect of music technology in the Persian Music Ensemble, students learn to program different Persian primary rhythmic cycles through EarSketch (Python programming) and Ableton.
For more information about the ensemble, contact Fatemeh Jamshidi at fzj0007@auburn.edu.
Director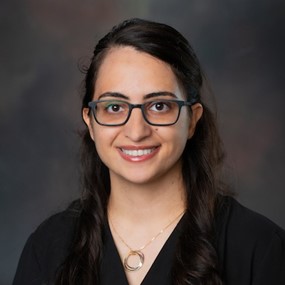 Fatemeh Jamshidi
Instructor
Persian Music Ensemble
fzj0007@auburn.edu