Visiting Information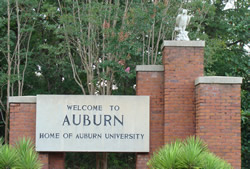 We would like to extend an invitation to all prospective music students and their families to visit our campus. Planning a campus visit is perhaps the best thing you can do to fully appreciate what makes Auburn special. Our most valued assets are our faculty and administration, and you will have the chance to meet the people about whom you have read and heard so many wonderful things. You can tour our beautiful campus and facilities, meet current students, and attend a class, rehearsal or lesson. If you time it right, you can also attend one of our student ensemble concerts or a recital given by our performance faculty. See our Calendar of Events for performance dates and times.
To arrange a visit with the Department of Music, please contact the music office via e-mail or between the hours of 1pm and 4pm CT, Monday through Friday, at 334.844.4165. Availability of tours, class and lesson attendance, rehearsal and performance attendance and meetings with faculty varies from day to day. While we will do our best to accommodate your visit request, we cannot always guarantee a date or time for a tour. In order to ensure the best experience, we kindly ask that you schedule a visit as far in advance as possible, preferably at least two weeks prior the desired date. If your visit falls during a time when a guided tour is not possible, we will be happy to provide you with a map for a self-guided tour.
Once you have arranged a visit with the Department of Music, you can also schedule a tour of the main campus with the Office of Admissions and Recruitment. Campus tours are given daily at 9am, 11am, 1pm and 3pm CT, Monday through Friday, by a dedicated staff of student recruiters. It is highly recommended that you first schedule your visit with the Department of Music prior to scheduling a campus tour.
Hotel Information
Airport Shuttle (to/from Hartsfield Jackson Atlanta International Airport)
Last Updated: May 17, 2017