Caroline Marshall Draughon Center for the Arts Humanities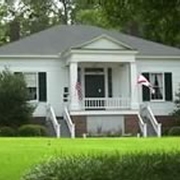 The main building, known as Pebble Hill, is an important site of Auburn and Alabama history, encompassing Native American occupation, the founding of the "loveliest village," and two Civil War raids, as well as serving as a home to generations of Auburn students. Working with a historic architect, a historic interior designer, and a talented pool of Auburn University personnel, Pebble Hill be renovated to honor its mid-1800s origins while continuing to serve as the intersection of "town and gown" in Auburn. An office building, designed to complement the main building, will be added to house CMD CAH staff, visiting scholars, and artists in residence.
The renovation and building project will allow Pebble Hill to once again conduct programming on site, especially conferences, exhibitions, book talks, and lectures. It creates an opportunity to engage students, faculty, and the general public in exploring and documenting our history. The history of Pebble Hill will serve students and faculty in public history, art history, sociology, architecture, and landscape—to name a few disciplines—as a laboratory and as an outlet for research.
Last Updated: August 04, 2016