Endowed Faculty Support
Endowed Professorships/Chairs: $300,000 - $5,000,000
Faculty support enables the university to recruit and retain world-class professors who offer students the most advanced education. These funds are essential to the university's future growth and potential.
Currently, the College is able to provide only 16 professorships to its faculty, yet we make up more than 24% of Auburn University's full-time faculty. Faculty support provides critical funds for salary support, travel, equipment and other various resources.
Consider a gift that will honor a professor who significantly impacted your professional or personal life.
Professorship
Endowment of $300,000
Distinguished Professorship
Endowment of $1 million
Eminent Scholar Chair
Endowment of $2 million
Presidential Chair
Endowment of $5 million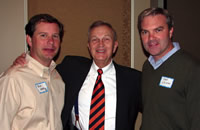 "For more than 30 years, Dr. Joseph Kicklighter, professor of history and department undergraduate program officer, has played a big role in why so many students consider Auburn University to be such a special place. He has been and still is one of Auburn's greatest assets. As beneficiaries of Dr. K's teaching and service to students, we wanted to say 'thanks' and ensure that future generations of Auburn students can experience the ideals of student service and passion for learning that Dr. Kicklighter embodies. That's why we initiated the Joseph A. Kicklighter Endowed Professorship in History and are encouraging others to support this fund. It is our opportunity to honor and preserve the legacy of a professor who truly loves Auburn." Tripp Haston '90 and Tad Lidikay '90
Last Updated: August 20, 2015