Noah Breuer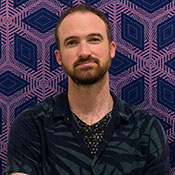 Contact
About Noah Breuer
Assistant Professor
Noah Breuer is a visual artist and printmaker. His current research project explores 20th Century printed textiles and specifically examines the visual legacy of Carl Breuer and Sons (CB&S), his Jewish family's former textile printing business, which was established in Bohemia in the late nineteenth century.

In 2018, Breuer had solo exhibitions of his artwork at Space Gallery in Portland, ME, Kala Art Institute in Berkeley, CA and Left Field Gallery in San Luis Obispo, CA.

His work is in the permanent collections of the Whitney Museum of American Art, the Watson Library at the Metropolitan Museum of Art, the Brooklyn Museum of Art and the Victoria & Albert Museum as well as numerous private collections.

Breuer has completed residencies at the Vermont Studio Center, Ox-Bow, Kala Art Institute, Hotel Pupik, Grin City and the University of Oregon. The San Francisco Center for the Book and Small Editions (Brooklyn, NY) have each published an artist book with Breuer. He holds a BFA in Printmaking from the Rhode Island School of Design, and an MFA from Columbia University. He also earned a graduate research certificate in traditional woodblock printmaking and paper-making from Kyoto Seika University in Japan.


Last Updated: October 30, 2018