Emily Burns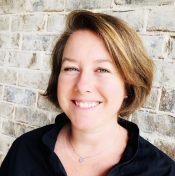 Education
PhD, Art History and Archaeology, Washington University–St. Louis
About Emily Burns
Associate Professor
Dr. Burns's research analyzes the circulation of artists and objects in the late nineteenth and early twentieth centuries and interprets how mobility shapes visual culture and cultural discourses of nationalism. Her book Transnational Frontiers: the American West in France (2018) analyzes appropriations of the American West in France in performance and visual and material culture in the tripartite international relationships between the United States, France, and the Lakota nation between 1867 and 1914. Images of the American West appeared in France in an array of media—paintings, postcards, magazine illustrations, architectural decoration, photographs, live performance and film. These representations drew the stereotypically provincial and undeveloped corners of the North American continent to the center of a cosmopolitan conversation. In spite of oft-divergent aims, French, American, and Lakota individuals shared one goal in appropriating and performing the myths of the American West—the possibility of cultural renewal. The book reveals cultural reciprocity between US and French visual cultures and uncovers examples of Lakota survivance and cosmopolitanism in a period of assimilation. Furthermore, the project offers new ways of considering the circulation of images and reconstruct the dynamics of agency—political, social, racial, and corporeal—represented in aesthetic choices. Building on research completed for this book, she is co-editing a special issue on the American West in France for Transatlantica, an open-access American studies journal based in France (projected Spring 2019), and developing articles on Lakota identity constructions through photographs and through international travel with Buffalo Bill's Wild West.
Her ongoing book project, Innocence Abroad: The Cultural Politics and Paradox of American Artistic Belatedness in Fin-de-Siècle Paris, revises and expands her dissertation to present a thematic analysis of constructions of American cultural innocence in late nineteenth- and early twentieth-century France. This discursive history analyzes artists' letters and journals, and visual and material culture including painting, photography, magazine and book illustrations, pottery, furniture, cultural performances, architectural spaces, and sculpture of the US artists' colony and tourist travel in Paris to show that Americans abroad enhanced a mythology that claimed cultural innocence in response to European expectations. Each chapter deconstructs a distinct period-specific use of innocence and considers the mechanisms of its performance for its transnational audience. The exploration of this paradox will contribute to transnational art history and to the study of Franco-American exchange.
Her research has been supported by the Metropolitan Museum of Art, the Smithsonian American Art Museum, the Terra Foundation for American Art, the Baird Library Society of Fellows, the Walter Read Hovey Memorial Foundation, the University of Nottingham, Crystal Bridges Museum of American Art, the Amon Carter Museum of American Art, the New England Regional Library Consortium, and the Buffalo Bill Center of the West in Cody, WY.
Classes Taught
Emily Burns offers courses on nineteenth-century European and U.S. art, constructions of race in visual culture, the history of the arts of Asia, and the surveys of art history. She is also developing courses on eighteenth-century European art and Native American art.
Representative Publications
Transnational Frontiers: the American West in France (Norman: University of Oklahoma Press, 2018). Recipient of the 2017 Terra Foundation for American Art International Publication Grant through the College Art Association
"Imperialist Nostalgia or Political Contestation? Cyrus Dallin's American Indian Equestrian Monuments." Archives of American Art Journal, 57, no.1 (Spring 2018): 4-21.
"A baby's unconsciousness" in Sculpture: Modernism, Nationalism, Frederick MacMonnies and George Grey Barnard in fin-de-siècle Paris." Sculpture Journal 27, no. 1 (Spring 2018): 89–103.
"Art, Ethnography and Politics: the Transnational Context of Bierstadt's The Last of the Buffalo in Paris." In Peter H. Hassrick, Albert Bierstadt: Witness to a Changing West, pp. 123–150­­. Norman, University of Oklahoma Press, 2018.
"'With Eyes Half Shut': George Grey Barnard, the innocent eye, and American nationalism in Paris." In Prestige in Modern and Contemporary Sculpture: Modern Sculpture and the Question of Status, ed. by Cristina Rodriguez-Samaniego and Irene Gras Valero. Barcelona: Colleccio Singularitats, 2018.
"Taming a 'Savage' Paris: The Visual Culture of Buffalo Bill's Wild West and France as a new American Frontier." In The Popular Frontier: Buffalo Bill's Wild West and Transnational Mass Culture, edited by Frank Christianson. Norman: University of Oklahoma Press, 2017.
"Perturber les stereotypes: les amérindiens en France, à la fin du XIXe siècle et au début du XXe siècle," and "Les artistes français et les amérindiens à la fin du XIXe siècle." In Le Scalp et le Calumet, edited by Annick Notter, pp. 106–116; 158–169. La Rochelle: Musée du Nouveau Monde, 2017.
"'Local Color': Social Art History, Global Impressionism, and Comparative Interpretation." Response to Questionnaire on Impressionism and the Social History of Art, edited by Alexis Clark, H-France Salon 9, issue 14, #2 (2017): 1–4.
"Wandering Pictures: Locating Cosmopolitanism in Frederick A. Bridgman's The Funeral of a Mummy on the Nile." In Locating American Art: Finding Art's Meaning in Museums, Colonial Period to the Present, edited by Cynthia Fowler. Aldershot: Ashgate, 2016, 109-124.
"Fata Morgana: Jean-André Castaigne, the American Indian, and American Artistic Aspirations in France." Panorama 2, no. 1 (Summer 2016).
"Belatedness, Artlessness and American Culture in fin-de-siècle France." Americans in Paris colloquy, edited by Natalia Cecire, Arcade: Literature, the Humanities & the World, Stanford University, Mar 4, 2016.
"Of a Kind Hitherto Unknown': The American Art Association of Paris in 1908." Nineteenth-Century Art Worldwide 14, no. 1 (Spring 2015).
"The Itinerant John Mix Stanley and the Circulating Spectacle of the West in Mid-Century America." In Painted Journeys: The Art of John Mix Stanley, by Peter H. Hassrick and Mindy A. Besaw, 1–31. Norman: University of Oklahoma Press, 2015.
"Revising Bohemia: The American Artist Colony in Paris, 1890-1914." Foreign Artists and Communities in Modern Paris, 1870-1914: Strangers in Paradise, edited by Susan Waller and Karen L. Carter, 186–209. Aldershot: Ashgate, 2015.
"Puritan Parisians: American Art Students in Late Nineteenth-Century Paris." In A Seamless Web: Transatlantic Art in the Nineteenth Century, edited by Cheryll May and Marian Wardle, 123–146. Newcastle upon Tyne: Cambridge Press Scholars, 2014.
"The Old World Anew: The Atlantic as the Liminal Site of Expectations." In Framing the Ocean, 1700 to the Present: Envisaging the Sea as Social Space, edited by Tricia Cusack, 37–54. Aldershot: Ashgate, 2014.
"Wildlife and the Sporting Man." In Art of the American Frontier: from the Buffalo Bill Center of the West, by Stephanie Mayer Heydt, Mindy A. Besaw, and Emma Hansen, 109­–110. New Haven: Yale University Press, 2013.
"Nationality, Modern Art, and the Child in Late Nineteenth-Century Painting." In Children and Childhood: Practices and Perspectives, edited by Chandni Basu and Vicky Anderson-Patton, 45–59. Oxford: Inter-Disciplinary Press, 2013.
Forthcoming Publications
Response to Alexander Nemerov, "Art is Not the Archive." Archives of American Art Journal, 57 no. 2 (Fall 2018).
"National or Cosmopolitan? American Artists' Clubs in Paris, 1890-1910." In Disrupting Schools: Transnational Art Education in the 19th Century, edited by Bénédicte Savoy, France Nerlich, and Eleonora Vratskidou. Turnhout: Brepols Publishers. Expected Fall 2018.
Spectral Figures: Edward Hopper's Empty Paris." In Empty Spaces: Confronting Emptiness in National, Cultural and Urban History, edited by Courtney J. Campbell, Jennifer Keating, and Allegra Giovine. London: Institute of Historical Research, University of London. Expected Fall 2018.
Last Updated: August 21, 2019