Barb Bondy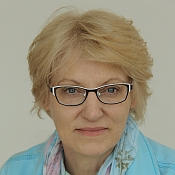 Education
2003, M.F.A., Southern Illinois University Carbondale
About Barb Bondy
Professor
Barb Bondy is a visual artist and professor of art. Bondy's creative research is cross-disciplinary, connecting science, art, and the humanities primarily through drawing to explore aspects of metacognition (thinking about thinking) and how humans experience the world through various cognitive processes. Her current drawing series titled DeepSeeing considers the relationship of making, viewing, and perceiving an artwork and examines the potential for cognitive entanglement among the artist, the work, and the viewer.
In 2018, Bondy was awarded an NEA Artworks: Research grant to support the Study on Visual Art and Brain Plasticity: Assessing Functional and Structural Changes in the Brain After Sustained Training in Observational Drawing (2018-2020) in collaboration with cognitive neuroscientist Dr. Jeffrey Katz at Auburn University. This study uses MRI technology to investigate the behavioral and neural changes (brain plasticity) behind students learning to draw.
In 2016, Bondy was awarded an Office of the Vice-President for Research SEED Grant with Co-PI, Dr. Jeffrey Katz for Drawing and Cognitive Neuroscience, a collaborative, interdisciplinary project using fMRI technology to study learning to draw and its impact on the brain.
Barb Bondy has exhibited her work nationally and internationally, and she is a past recipient of an Alabama State Council on the Arts Fellowship. Recent work is included in the Kentler International Drawing Space Flatfiles, Brooklyn, NY, and the International Drawing Annual 13 (INDA13) exhibition-in-print, Ed. Franz, Jason. Manifest Press; 1st edition (August, 2019), Cincinnati, OH. She has participated in residencies at the Lillian E. Smith Center/Piedmont College, Summer Artist-In-Residence at Columbus State University, GA, and at The Hambidge Center, GA.
Bondy holds has an MFA from Southern Illinois University Carbondale, and a BFA from University of Windsor, Canada. She has taught drawing for nearly 20 years and in 2017, was inducted into the AU College of Liberal Arts Academy of Outstanding Teachers. Bondy has also taught introductory through advanced levels of drawing classes for the Alabama Prison Art + Education Project (2005-19).
Personal website: https://www.barbbondy.com.
Last Updated: September 23, 2019