Allyson Comstock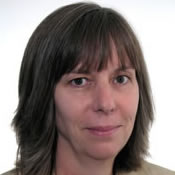 Education
B.A. in studio art, Occidental College
M.F.A., Arizona State University.
About Allyson Comstock
Professor
Allyson Comstock is a visual artist who explores the natural world in drawings, photographs, hand made paper pieces, and sculptural installations. Her work has been exhibited at the Czong Institute for Contemporary Art in South Korea, the Ohio Craft Museum, The Delaware Contemporary Art Center, The Mobile Museum of Art, The Huntsville Museum of Art, The Wiregrass Museum, Kiang Gallery in Atlanta, and Blue Spiral I Gallery in Asheville, North Carolina. Comstock's artwork is in the permanent collection of the Mobile Museum of Art and the corporate collections of Sutherland, Asbill and Brenan and Wheat First Securities.
Comstock was a 2013 recipient of a National Science Foundation Antarctic Artists and Writers Grant. Her two-month stay in Antarctica resulted in a drawing series created in collaboration with scientists conducting research at Palmer Station. She was also the recipient of fellowships from the Women's Studio Workshop in New York the Alabama State Council on the Arts and was an artist-in-residence at the Ucross Foundation and the Hambidge Center.
Comstock holds a Bachelor of Arts degree from Occidental College and a Master of Fine Arts degree from Arizona State University. Following graduate school, she studied Japanese papermaking at Pyramid Atlantic in Washington D.C. with Yoichi Fujimori, the proprietor of the Fuji Paper Mill, in Tokoshima, Japan.
Last Updated: August 01, 2018