Alumni and Friends
Carson Shelton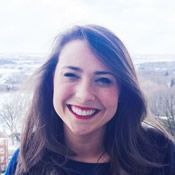 I graduated from Auburn in May of 2014 with my bachelor's degree in art history and a minor in business. After interning throughout my junior and senior years at Auburn with the Jule Collins Smith Museum of Fine Art, and the Phillips Collection in Washington, DC, I decided I would continue pursuing a career in art museums. After my third internship, in the development at the Phillips Collection, I was offered a position in the office of corporate relations at the National Gallery of Art in Washington, DC.
Beginning at Auburn, I was a pre-journalism major and thought, "maybe I'll minor in art history, because what can you really do with a major in that?" But just after the first few months of my art history intro class, I knew I had to make this my major because of how much I loved it and trust that it would work out.
My first few museum internships were in the education and registration departments of the JCSM in Auburn and the Phillips Collection in Washington, DC. Although I was unsure of the specific spot I'd like to be within a museum, I knew anywhere would be good place to learn. During my first summer at the Phillips, I was encouraged to have coffee with someone who worked in the development department. I knew nothing about development at the time, but I knew I wanted to work in a museum and fundraising must always be a crucial part.
As I continue to learn about development and fundraising, I've observed how relationships are often the main ingredient in motivating a willingness to give. I also learned, more personally for me at the time, how relationships or networking are often what motivate a willingness to hire.
In my current position at the Gallery, I continue to see how relationships can inspire communication and productivity. If you have good relationships, you have good communication. If you have good communication, you will get things done. For me, my career was launched by good relationships and is continually sustained and grown by them. Regardless of what you study or do, work at it with all your heart and do your best to make strong connections.
Last Updated: May 04, 2016