The Spring 2017 B.F.A. Candidates Senior Project Exhibition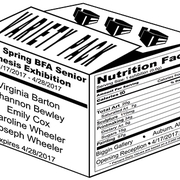 April 17 - April 28, 2017
Opening reception: Monday, April 17 @ 5:00 p.m.
The Department of Art in the College of Liberal Arts at Auburn University is pleased to announce The Spring 2017 BFA Candidates Senior Thesis Exhibition. Variety Pack features the work of Virginia Barton, Shannon Bewley, Emily Cox, Joseph Wheeler, and Caroline Wheeler. The exhibition opens in Biggin Gallery on Monday, April 17, and runs through April 28, 2017. There will be an opening reception at the gallery from 5 - 7 p.m. on April 17. All events are free and open to the public, and Biggin Gallery is wheelchair accessible.
Last Updated: May 01, 2017