Party Island: An Exhibition by Jaime Bull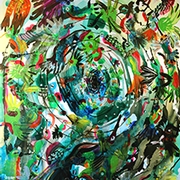 May 1 – August 28, 2017
Artist lecture and closing reception: Monday, August 28 @ 5:00 p.m.
The Department of Art & Art History in the College of Liberal Arts at Auburn University is pleased to announce An Exhibition by Jaime Bull. The exhibition opens in Biggin Gallery on May 1 and runs through August 28, 2017. The artist will present a lecture on her work on Monday, August 28 at 5 p.m. in Biggin 005; a public reception in the gallery will follow. This event is free and open to the public, and Biggin Gallery is wheelchair accessible.
Jaime Bull is an artist living and working in Athens, Georgia. Her large, fluorescent dazzling abstractions explore nature, culture, fantasy and sexuality. Using bright color combinations, glitter, metallic surfaces, hand-drawn patterns and the repetition of imagery she creates bold, energetic depictions of environments, animals and invented beasts. Humor and play are essential in the making of her work.
Bull received her MFA from the University of Georgia, Athens in 2013. She is a recipient of the Willson Center for the Arts research grant for her thesis work "Lady Beasts: An Investigation of Womanliness." In 2012 she was awarded support to study and work in Cortona, Italy and at Penland School of Crafts in North Carolina. She has exhibited with the Doppler Project, the Mint Gallery, the Athens Institute of Contemporary Art, Hotel Indigo and the Hudgens Center. She is a Vermont Studio School Fellow and recently attended a summer residency at the Bernheim Arboretum in Louisville, KY. She was featured in the 219th edition of Ambit Magazine, London. She is currently an Adjunct Instructor at the University of Georgia teaching Color and Composition and Aqueous Media and was just selected to the Studio Artist Program at the Atlanta Contemporary.
* Image: Sunburnt in Macramé. Acrylic on panel, 36" x 36'
Last Updated: May 01, 2017