The 2015 Juried Fine Art Student Exhibition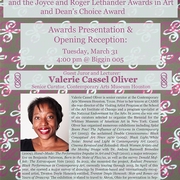 March 31 – April 14, 2015
Juror's presentation and opening reception: March 31, 4:00 p.m., Biggin 005
Submissions may be dropped off in Biggin Gallery on Wednesday, March 18 10am - 5pm, and Thursday, March 19 from 9am - 4pm. Download the prospectus here.
Biggin Gallery's annual Juried Fine Art Student Exhibition features selected works by current art students, with an awards presentation featuring Dean Joseph Aistrup and a distinguished visiting juror. Included works are eligible for numerous awards, including the Joyce & Roger Lethander Purchase Award and Merit Awards in Art, the Dean's Choice Purchase Award, Art Department Merit Awards, and the James E. Furr Award for Excellence in Innovation.
The juror for 2015 will be Valerie Cassel Oliver, senior curator at the Contemporary Arts Museum Houston, Texas. Prior to her tenure at CAMH she was director of the Visiting Artist Program at the School of the Art Institute of Chicago and a program specialist at the National Endowment for the Arts. In 2000 she was one of six curators selected to organize the Biennial for the Whitney Museum of American Art in New York. Cassel Oliver has organized numerous exhibitions including Splat Boom Pow! The Influence of Cartoons in Contemporary Art (2003); the acclaimed Double Consciousness: Black Conceptual Art Since 1970 (2005);Black Light/White Noise: Sound and Light in Contemporary Art (2007); Cinema Remixed and Reloaded: Black Women Artists and the Moving Image with Dr. Andrea Barnwell Brownlee (2009); Hand+Made: The Performative Impulse in Art and Craft (2010); a major retrospective on Benjamin Patterson, Born in the State of Flux/us, as well as the survey Donald Moffett: The Extravagant Vein (2011). In 2012, she mounted the project, Radical Presence: Black Performance in Contemporary Art, currently touring through 2015. In April of this year, she opened a major survey of drawings by Houston-based and internationally-recognized artist, Trenton Doyle Hancock, entitled Trenton Doyle Hancock: Skin and Bones–20 Years of Drawing. The exhibition is slated to travel to Akron, Ohio for presentation in September 2014.
Last Updated: October 04, 2016