The 2018 Juried Fine Art Student Exhibition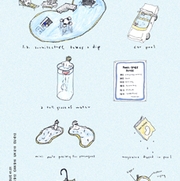 Biggin Gallery's annual Juried Fine Art Student Exhibition features selected works by current art students, with an awards presentation featuring Dean Joseph Aistrup and a distinguished visiting juror. Included works are eligible for numerous awards, including the Joyce & Roger Lethander Purchase Award and Merit Awards in Art, the Dean's Choice Purchase Award, the Davis-Frye Annual Award in Art, Art Department Merit Awards, and the James E. Furr Award for Excellence in Innovation.
The exhibition opens on Monday, March 26, 2018 at 5 p.m. with the presentation of the juror Victoria Camblin, the award ceremony, and gallery reception, and runs through April, 2018.
Juror Information:
This year's juror is art historian and editor of Art Papers magazine, Victoria Camblin.
Victoria Camblin (b. San Francisco) holds a dual bachelor's degree in Philosophy and Art History from Columbia University (New York), and a doctorate in the History of Art from the University of Cambridge (Cambridge, UK). In 2006, she was awarded a Deutscher Akademischer Austausch Dienst (D.A.A.D.) for research at the Humboldt University in Berlin, and held the 2009-2012 Leslie Wilson Major Scholarship from Magdalene College, Cambridge. She was an editor of the acclaimed Berlin-based contemporary culture magazine 032c for seven years, and has worked on editorial and curatorial projects in Western and Eastern Europe, and the Middle East. Her essays, reviews, and cultural criticism have appeared in print in Texte zur Kunst, Artforum, Pin-Up and others. She has organized, moderated, and participated in panels and symposia internationally, including her work as co-organizer of "School School: A School about Schools," a week-long series of talks and workshops dedicated to alternative forms of art education, which took place at the Architectural Association School of Architecture in London, England, in May 2013. She has been the editor of Art Papers in Atlanta, GA since 2013.
Submission information:
Students may drop their artwork at Biggin Gallery for submission to the exhibition on Monday, March 19, from 1p.m. to 6 p.m. and Tuesday, March 20 from 8.30 a. m to 12 p.m.
Download the prosepctus and submission form here.
Last Updated: March 21, 2018