Students in SUST 5000, Senior Capstone in Sustainability produce important student projects each semester. Through interdisciplinary groups, the students work with a real community partner to develop solutions to real-world sustainability problems. These projects demonstrate the students' mastery over and real-world application of complex systems-thinking, detailed knowledge, and professional skills.
Spring 2022
Changes to the Auburn University Campus Master Plan
The goal of this project was to integrate sustainability into the Master Plan with guiding principles, proposed themes, and other recommendations.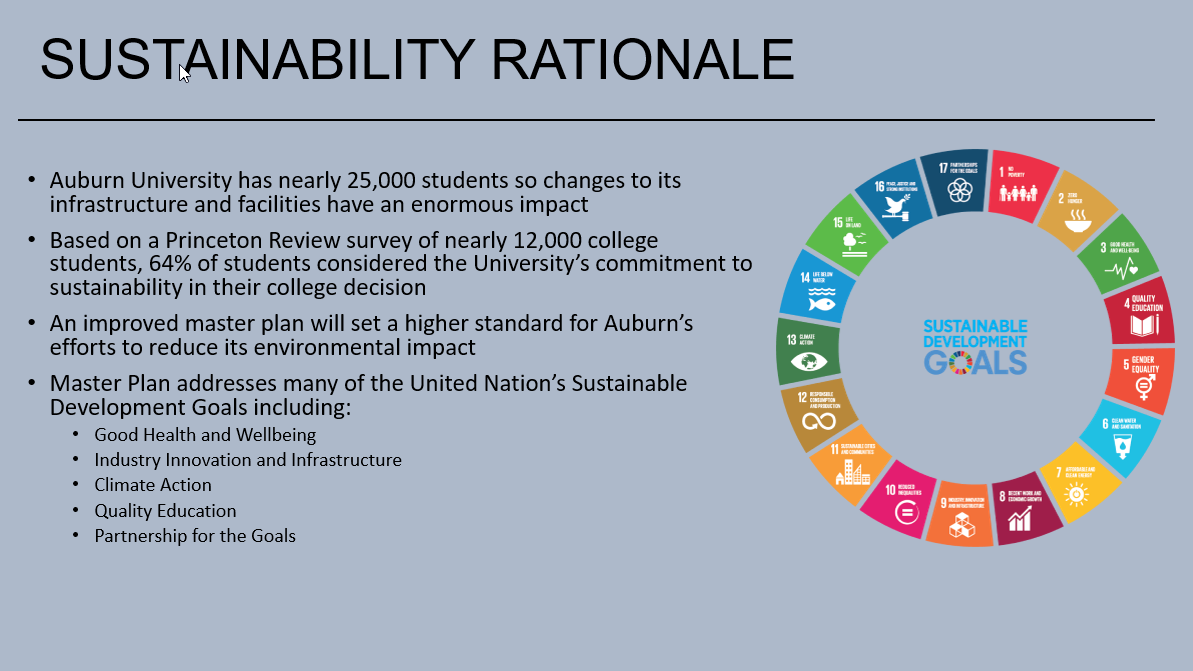 ---
Green Labs
This project serves as a resource for creating a greener environment in Auburn University labs by providing information on what items can be recycled, repurposed, or donated.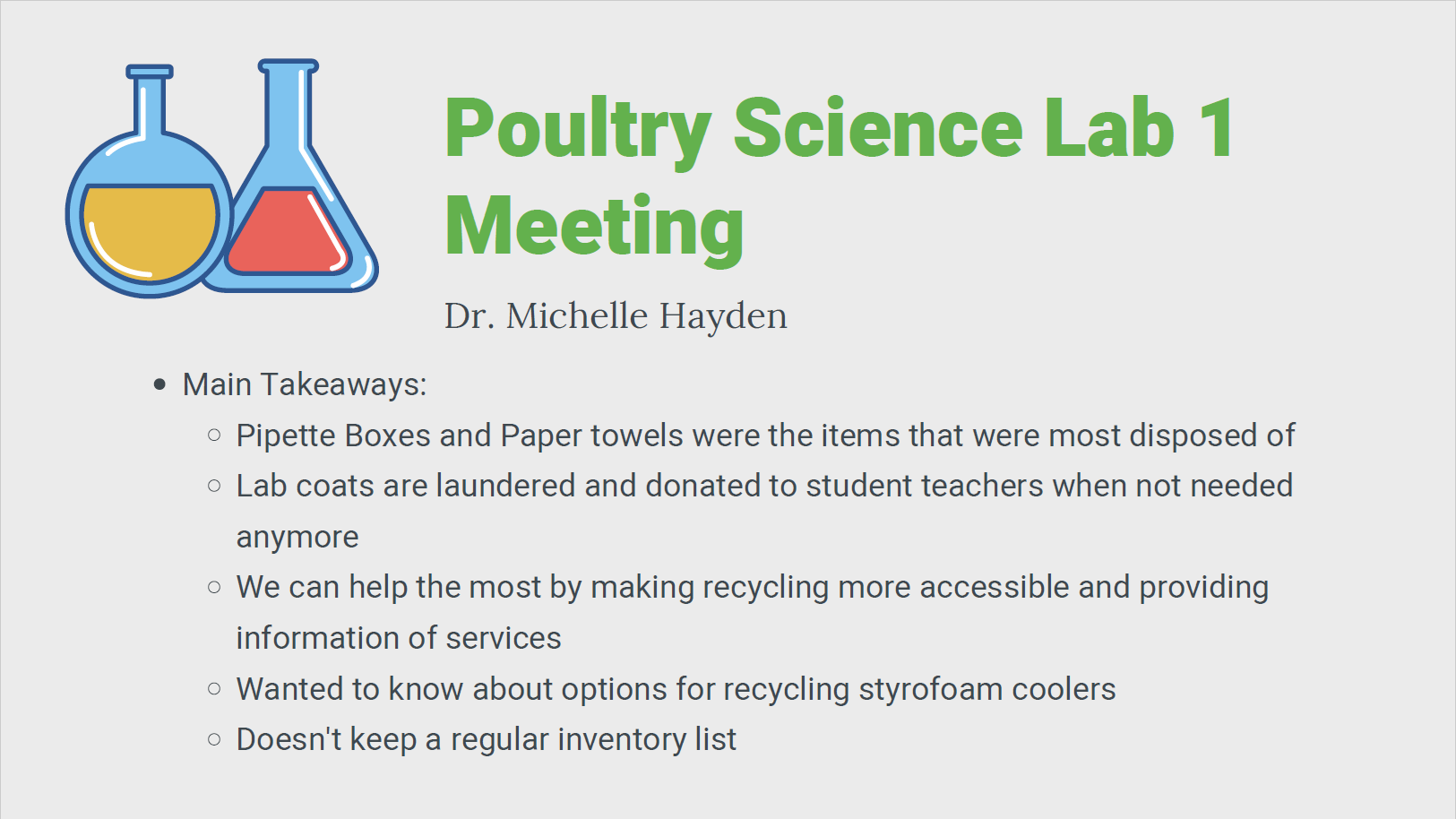 ---
Nature Rx
This project proposes the creation of pocket parks in underutilized outdoor spaces at Auburn for the individual, the community, and the environment.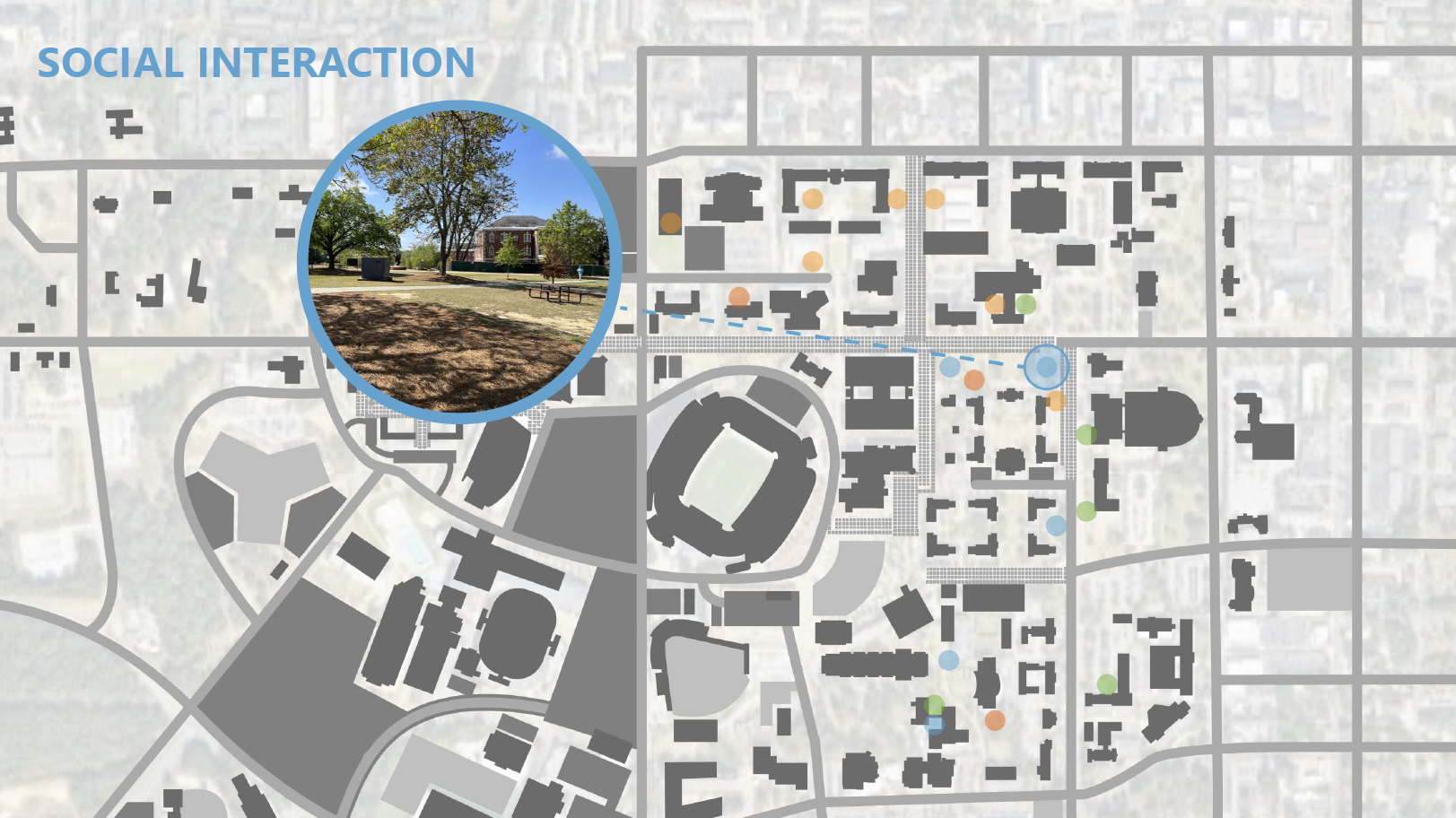 ---
Planting it Forward
This project was an assessment of local food sourcing and plant-based dining food options at Auburn University dining halls.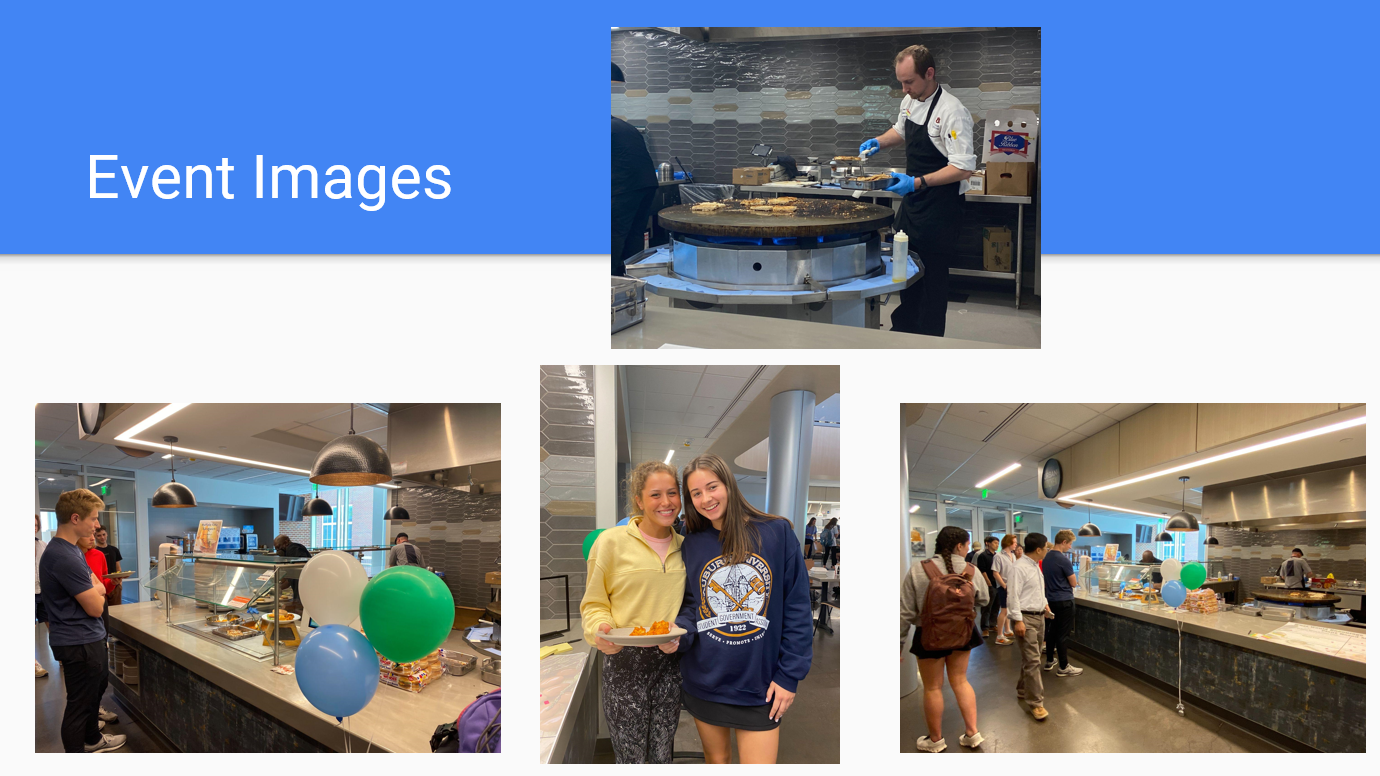 ---
Mapping Bike Networks and LEED Buildings
The purpose of this project was to assess connectivity from campus to the community to enhance the bike network and complete streets around campus.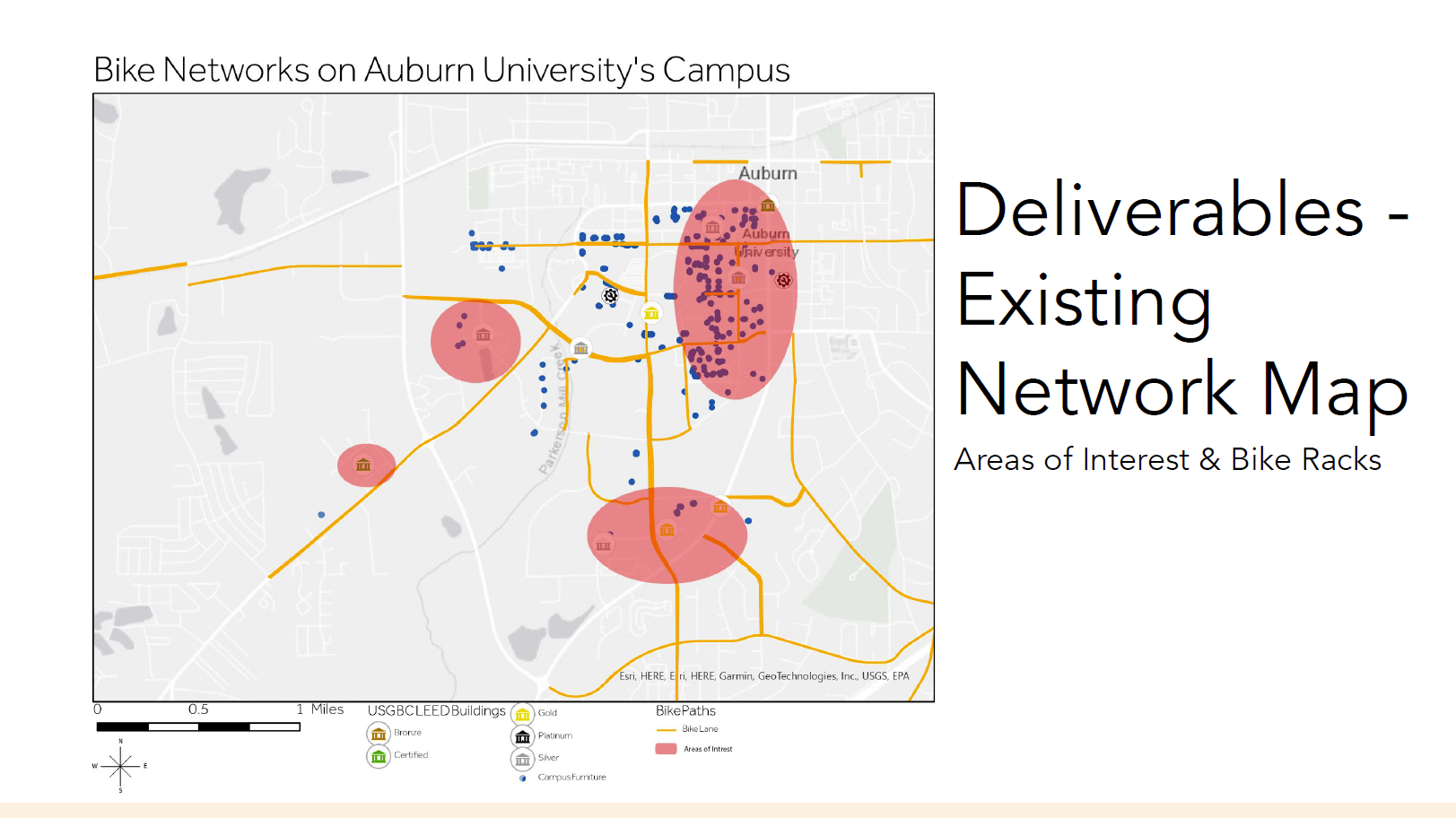 ---
Period! Campaign
The goal of this project was to contribute to the education, service, and advocacy efforts of Period, a national coalition of members committed to the eradication of period poverty and the stigma that surrounds it.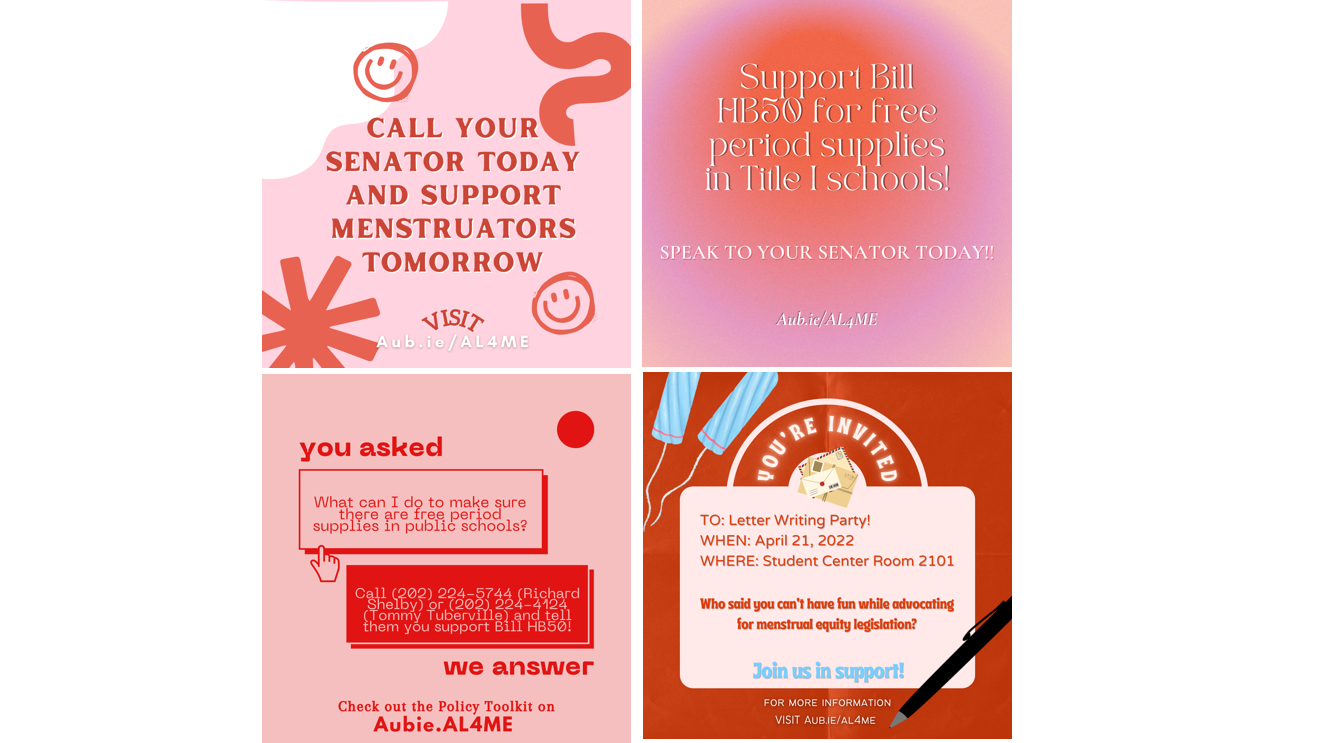 ---
Interpretive Design in the Kreher Preserve and Nature Center
The goal of this project was to provide interpretive signage at the Kreher Preserve and Nature Center.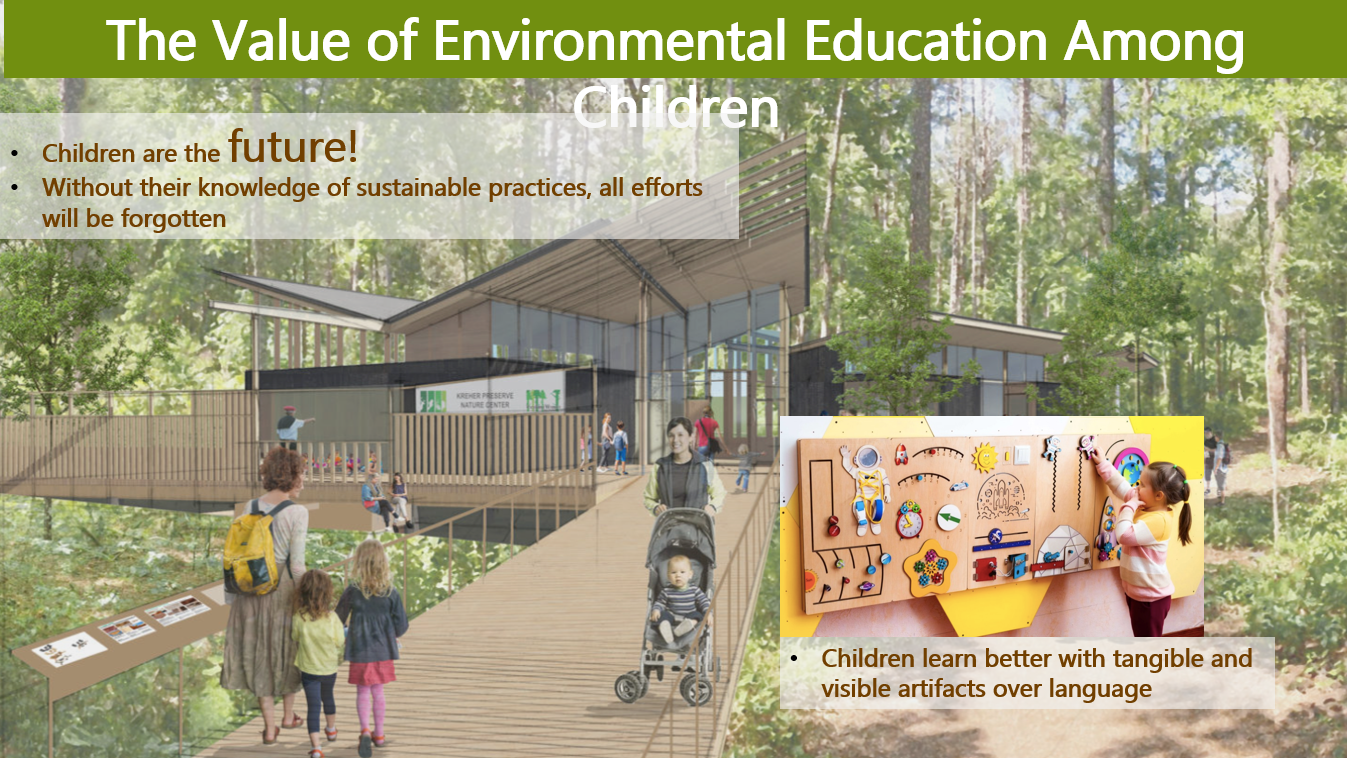 ---
The Freezer Challenge
The goal of this project was to optimize sustainability of freezer management in laboratories at Auburn University.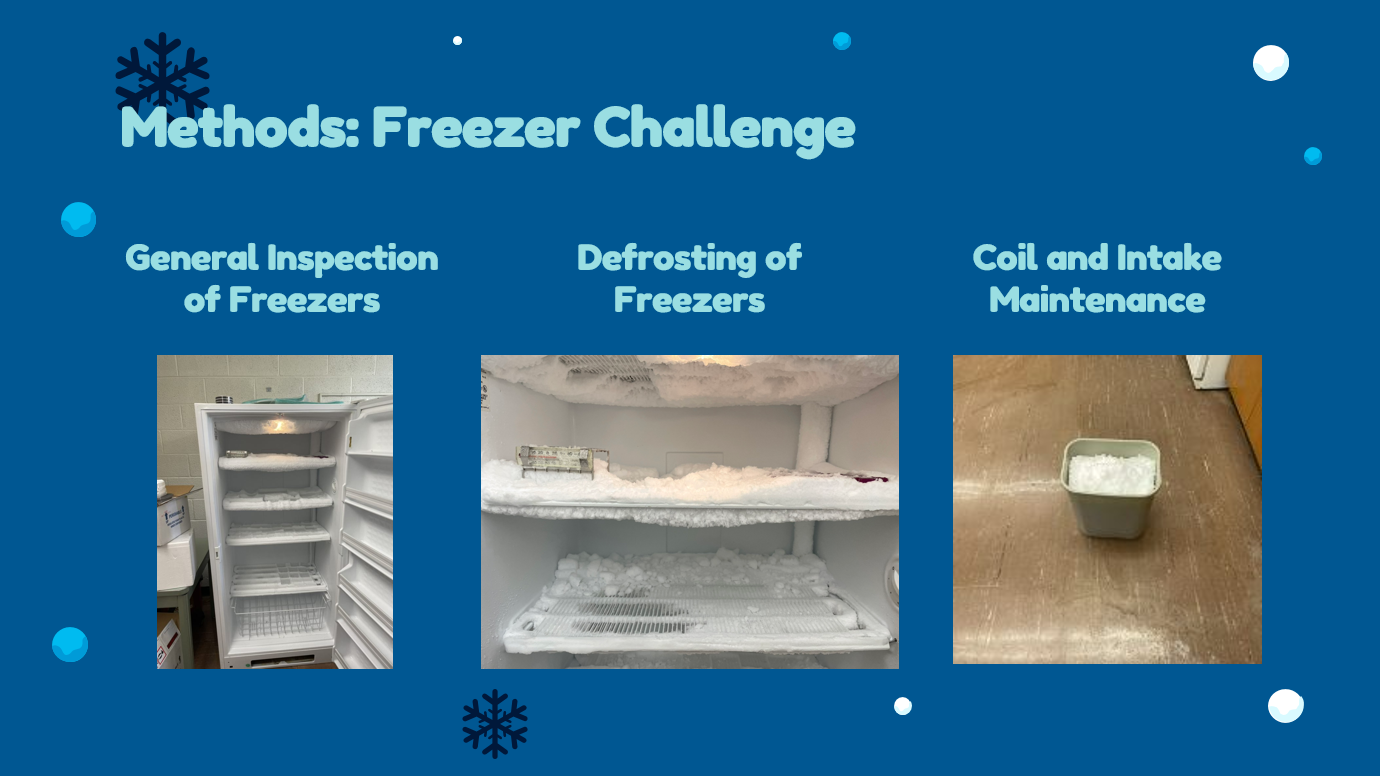 ---
Examples of Student Projects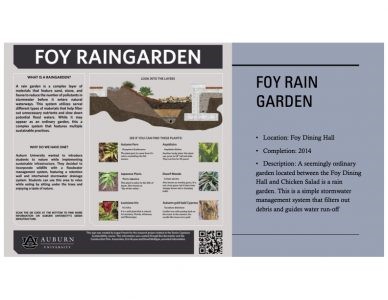 Creating a Greener Future: Public education on Auburn University's stormwater management features
Through the use of interpretive signage, Auburn University can label their green infrastructure around campus. This project developed signage for the bioswale in front of Mell and the Foy raingarden, providing passersby with information about the functionality and uniqueness of the green infrastructure. The project included research on the Parkerson Mill Creek Watershed Management Plan, the purpose of a bioswale and raingarden, and how to engage the public with educational web design and graphic design for signage. The project's deliverables also include a virtual map of stormwater management sites on Auburn's campus.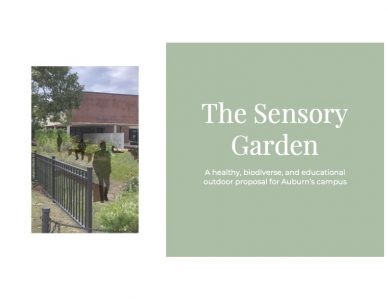 Sensory Garden
The purpose of the Auburn University Sensory Garden project is to promote a high quality and connected system of open spaces designed to improve the appearance of the campus and provide a pleasant contect for campus life. The outcome of the project was a design for a sensory garden in front of Foy Hall on Auburn's campus.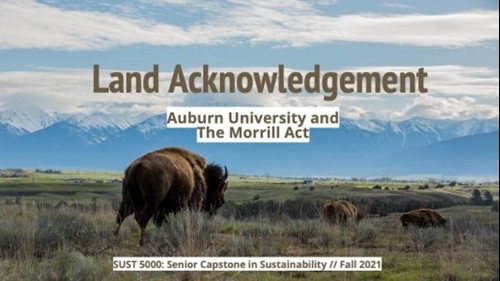 Land Acknowledgment: Auburn University and the Morrill Act
This project's purpose is to lay the groundwork in order to encourage more upper-level administration dialogue about how necessary land acknowledgement is at Auburn University. Our project focuses on Auburn's history with the Morrill Act and how our land-grant title is rooted in stolen lands and the displacement of Native Americans; a fact largely unacknowledged by the university. The project outputs are land acknowledgement statements and an action plan.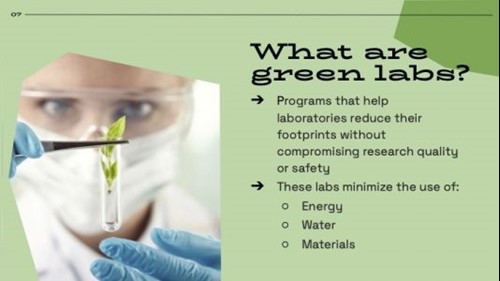 Green Labs Project
The Green Labs Project was designed to promote more sustainable lab practices at Auburn. The project partnered with a few labs that allowed students to study their inner workings and to build a comprehensive plan. The students also worked with AU Waste Reduction and Recycling, Science in Motion, and the Surplus Property on campus, all of which need to be involved in the implementation and management of sustainable practices. The project focused on working with local schools, simplifying greener lab practices, and signage.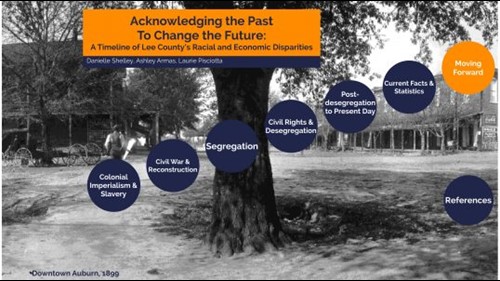 Acknowledging the Past to Change the Future: A Timeline of Lee County's Racial and Economic Disparities
The South has a well-known past of racial injustice, and Lee County, Alabama is no exception. While progress has been made, the remains of racial and economic disparity have a hold on the current climate of Lee County. The intention of this project was to acknowledge the past yet change the future. The projects informative timeline portrays the racial past of Lee County, Alabama, and encourages viewers to aid in progress towards harmony.
Auburn University Sustainability Map
This project created a map with images, descriptions, and other information about forty-one physical features of Auburn University's campus related to sustainability. Each location is tagged with the relevant United Nations Sustainable Development Goals. The map contains resources for outdoor wellness, stormwater management sites, LEED-certified buildings, and more.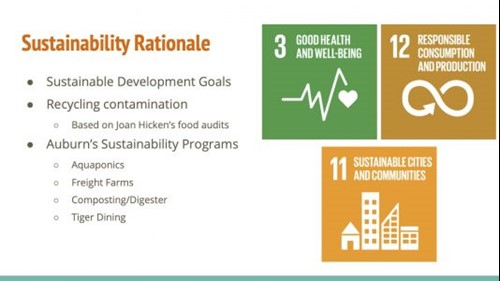 Food Waste & Recycling Awareness Campaign on Auburn's Campus
The goal of this project was to make Auburn's students more aware of how much food waste and food-related waste is produced on campus and in specific areas of campus, while also marketing the new sustainable initiatives coming to campus such as the industrial-sized food digester and freight farms.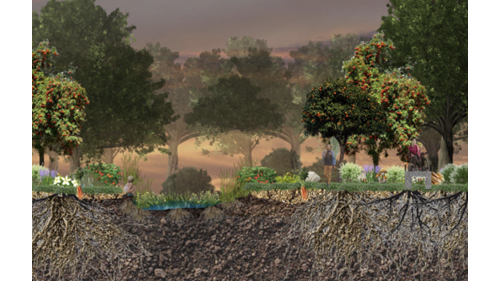 Auburn Refuge Project
To address the decline of human and ecological quality of life, biodiversity, and mental health, the Auburn Refuge Project aims to establish five distinct oases, or "ecological pockets," in which students, faculty, and Auburn residents may convene or spend time along to recharge. The project was informed by a survey which found a major correlation between biodiverse spaces and positive mental health. The project re-imagines reclusive monoculture lawn spaces as small, private refuges geared towards sustainable initiatives that shrink the campus's ecological footprint. It integrates concepts of biophilic design, outdoor rooms, environmental and design psychologies, permaculture, and green infrastructure.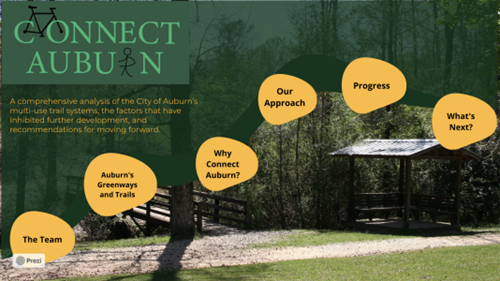 Connect Auburn
This project is a comprehensive analysis of the City of Auburn's multi-use trail systems, the factors that have inhibited further development, and recommendations for moving forward. The project's goals are to identify what is preventing trail and greenway development, propose alternate funding sources for greenways and trails, advocate for the prioritization of trail and greenway development, and engage the Auburn Community in advocating for trails and greenways.