Return
CMDS Study Abroad
Published on Aug 25, 2016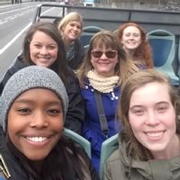 The Department of Communication Disorders is thrilled to offer an annual study abroad program! The program is unique in that it is the only one of its kind in the state. The first trip, completed in March 2015 with 8 students and 2 faculty members, included visits to 2 internationally recognized universities and 4 private clinics. Round table discussions and observations were completed with speech-language pathologists in London and Dublin. In addition to the professional site visits, there was time dedicated to touring in each city to learn and experience the culture of the community. Our current trip itinerary includes Scotland and Ireland.
The 3-hour course is offered to undergraduates and graduates during the spring semester. The class meets once weekly prior to and after the study abroad portion. Course content is designed to prepare students for the 10-day study abroad experience through study of research and cultural aspects of the United Kingdom and Ireland. The study abroad portion is designed to broaden students' knowledge and skills in speech-language pathology through exposure to practicum, discussion with international professionals, and presentations of reviews of research at internationally recognized universities. During the study abroad portion of the course, students visit national health practices and a university in London and Dublin and are exposed to lectures, research, and observations of clinical practice. Faculty leaders also lead cultural tours to increase the students' knowledge of the cultural differences in Ireland and the United Kingdom. Following the trip, students prepare and share presentations of their learning outcomes and overall experience. Faculty leaders are Dr. Allison Plumb and Laura B. Willis.
Please contact Allison Plumb at amp0016@auburn.edu or Laura Willis at lbg0003@auburn.edu or for more information.
The online application is http://studyabroad.auburn.edu/?go=AU_CMDS
Return