The Department of Art in the College of Liberal Arts at Auburn University Presents Self-Exam, An Exhibition by Scott Ingram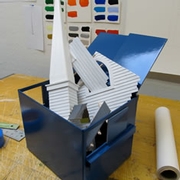 May 17 through August 24 in BIGGIN GALLERY
Artist Presentation: August 20, 5:00 p.m. 005 Biggin Hall
The Department of Art in the College of Liberal Arts at Auburn University presents Self-Exam, an exhibition by Scott Ingram (http://www.singram.net). Self-Exam opens May 17 at Biggin Gallery and runs through August 24, 2012. Scott Ingram will present a lecture on Monday, August 20 at 5:00 p.m. at 005 Biggin Hall; a public reception will follow. All events are free and open to the public. Biggin Gallery, located at 101 Biggin Hall, 112 South College Street, is wheelchair accessible.
Scott Ingram's artwork comments on art and architecture in human environments. Based in an American aesthetic, his range of artworks includes paintings, drawings, sculpture and photography as well as functional objects. Growing up in the Midwest, the artist was heavily influenced by the great modern architects of Chicago. Working for the Des Moines Art Center, Ingram developed an in-depth understanding of contemporary art.
Ingram has been exhibiting for over 15 years in exhibitions throughout the United States, Spain and Canada. He has exhibited at Solomon Projects (http://www.solomonprojects.com/artistpage/ingram/index.html) and Emily Amy Gallery in Atlanta, and Anna Kustera Gallery, New York, NY, and Florida Atlantic University.
"Self Exam is a reflective look at how my interests in modern and contemporary art and architecture have come to a tipping point," says Ingram. "At 43, I find myself looking back at my life and examining more than 20 years of my life in the art world and how that experience is affecting my work."
Ingram adds, "Ultimately, I believe the challenge that all artists face is to find relevance in their work that lasts beyond one's years." Self-Exam begins to talk about ideas with which artists and architects often burden themselves: the idea of legacy, the challenge of making a lasting impression, leaving a mark of value on our culture.
Ingram describes the exhibition as an examination of several artists and architects and their lasting works. "Creating the iconic in a meaningful way was the challenge that they rose to meet," explains Ingram citing Romanian-born sculptor Constantin Brancusi's (1876-1957) attempt to reach the heavens with his monument, The Endless Column.
"Architect I.M. Pei (born 1917) cast his name in the windows of the Des Moines Art Center, an attempt at the immortal, which seems rather silly after later creating the pyramid addition to the Louvre in Paris," remarks Ingram. "It's this humor, or the human, that I am investigating, brilliant men falling short."
Biggin Gallery hours are 8:00 a.m. through 4:00 p.m. Monday through Friday or by appointment. For more information, contact the Department of Art, Exhibitions and Lectures Coordinator at bondybj@auburn.edu or 334-844-3483.
Last Updated: May 10, 2017