Juried Fine Art Student Art Exhibition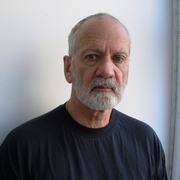 The Juried Fine Art Student Art Exhibition is scheduled to open this week. This year we are excited to welcome, Peter Plagens distinguished artist, and critic for Art in America, Newsweek and Artforum magazine to serve as the awards juror for this exhibition at Biggin Gallery. The public is invited to attend a lecture by Peter Plagens on March 26 at 4:00 p.m. in 005 Biggin Hall; awards announcements and an opening reception will follow.
Plagens is known for his painting as well as his writing on art. His artwork is held is more than 20 prestigious collections in the U.S. and Japan. He is the recipient of a National Endowment for the Arts Fellowship in Painting, a John Simon Guggenheim Fellow in Painting, and an NEA grant in Art Criticism. In June 1999 the artist's first novel, "Time for Robo," was published by Black Heron Press. Peter Plagens was born in Dayton, Ohio in 1941, he currently resides in New York City, NY.
The Department of Art gratefully acknowledges the collaboration of the Jule Collins Smith Museum of Fine Art at Auburn University that made Peter Plagens' visit possible.
Last Updated: February 10, 2014